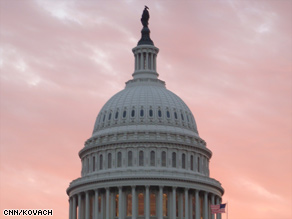 The CNN Washington Bureau's morning speed read of the top stories making news from around the country and the world.
Compiled by Alison Harding
WASHINGTON/POLITICAL
For the latest political news: www.CNNPolitics.com
CNN: Sen. Dodd to retire, sources tell CNN
Sen. Chris Dodd, D-Connecticut, plans to announce his retirement, two sources close to the lawmaker told CNN. A news conference is planned for Wednesday to announce the decision, one of the sources said.
CNN: Dorgan announces he won't seek re-election
North Dakota Democratic Sen. Byron Dorgan announced Tuesday that he will not seek re-election in 2010.
CNN: Obama, House Dems finalize decision to bypass formal health care conference
President Barack Obama and congressional Democratic leaders finalized a decision Tuesday to bypass a formal House and Senate conference to meld their health care bills, according to two congressional Democratic leadership sources.
The Hill: Pelosi tells C-SPAN: 'There has never been a more open process'
C-SPAN wrote a letter to congressional leaders Tuesday asking that TV cameras be allowed to film negotiations to reconcile the House and Senate versions of healthcare reform legislation. But Pelosi said Congress has already been transparent throughout the process.
USA Today: Congressional 'earmarks' in spending bills cut by a third
The 2010 federal spending bills disclose $10.2 billion for pet projects inserted by members of Congress, a drop of nearly a third since 2008, an analysis of the bills shows.
CNN: Obama: 'System failed' in a major way
President Obama said Tuesday that U.S. intelligence has had considerable success, but that the botched Christmas Day attack shows "the system has failed" in a major way.