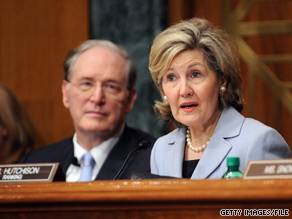 A GOP official denies that Hutchison is being pressured to stay in the Senate.
Washington (CNN) - A GOP official is dismissing a report that John Cornyn, the chairman of the National Republican Senatorial Committee, is pressuring his fellow Texas Senator Kay Bailey Hutchison to drop her gubernatorial primary challenge to Gov. Rick Perry.
A Wall Street Journal column reported Thursday that Cornyn is "trying to persuade Ms. Hutchison to drop out of the governor's race [to] run for re-election to the senate" - a move that would put an end to the hard-hitting GOP primary battle in Texas and keep Hutchison's seat in Republican hands.
Brian Walsh, a spokesman for the NRSC, called the report "absolutely false."
"Senator Cornyn's focus is on winning back Republican Senate seats in 2010 and restoring checks and balances to Washington," Walsh said in an e-mail to CNN.
An aide to Hutchison had no comment on the claim.
After first declaring last year that she would step down from her Senate seat to focus on the governor's race, Hutchison changed course in November and said she would keep her seat until the Republican gubernatorial nomination is decided in March.
If she decides to remain in the Senate, she would not face re-election until 2012.