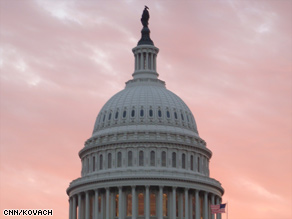 The CNN Washington Bureau's morning speed read of the top stories making news from around the country and the world.
Compiled by Alison Harding
WASHINGTON/POLITICAL
For the latest political news: www.CNNPolitics.com
CNN: Report on failed Christmas terror attack released
The government had sufficient information to have potentially disrupted an al Qaeda plot to bomb an airliner on Christmas Day, but failed to identify Umar Farouk AbdulMutallab as a potential bomber, a White House review of the incident shows.
CNN: Obama outlines anti-terrorism flaws, reforms
President Obama outlined Thursday the intelligence and other government failures leading up to the botched December 25 terror bombing of a U.S.-bound jetliner.
CNN: Sources: Feds scrambling to find additional air marshals
The federal government is scrambling to find ways to comply with President Obama's order to put more air marshals on flights after a botched Christmas Day airline terrorist attack, government sources have told CNN.
Wall Street Journal: U.S. Insists Pakistan Ease Limits On Staffers
The U.S. Embassy in Islamabad demanded that Pakistan stop detaining American diplomats at police checkpoints on the country's roads - an unusual public complaint intended, in part, to counter rumors of U.S. plots against Pakistan.
Jerusalem Post: US preparing forces for possibility of conflict with Iran
The US does not want to see confrontation with Iran but is still preparing its military for that possibility, America's top uniformed officer said Thursday.
Bloomberg: Gates Calls for Delay in Pentagon Purchases of Lockheed F-35s
Defense Secretary Robert Gates has ordered a delay in the Lockheed Martin Corp. F-35 program, cutting the Pentagon's planned purchases by 10 aircraft in fiscal 2011 and a total of 122 through 2015, according to a budget document.
Wall Street Journal: Rents Signal Rise of D.C., Fall of N.Y.
The office market in Washington, D.C., is poised to topple New York as the nation's most expensive, reflecting the declining fortunes of the nation's financial center and the government expansion under way in the U.S. capital.
CNN: House Democrats object to Senate health provisions
Rank and file House Democrats Wednesday objected to some key provisions in the Senate health care bill during a wide-ranging conference call led by Speaker Nancy Pelosi and other leaders. Over 100 Members participated in the call meant to update Democrats on health care negotiations.
The Detroit News: Congressional delegation to visit auto show
After more than $100 billion in government assistance to the auto industry, key members of Congress are coming to the North American International Auto Show on Monday to get a look at what they got with the public's money.
Los Angeles Times: Healthcare overhaul could save money and boost jobs, researchers say
National healthcare legislation in Congress could slow the growth of medical costs, allowing employers to create 250,000 to 400,000 new jobs a year over the next decade, economists from Harvard University and USC are predicting.
CNN: Gates to stay as defense chief at least another year
Secretary of Defense Robert Gates will continue in that position in the Obama administration for at least another year, a Pentagon spokesman said Thursday.
New York Times: Schumer Asks Ford Not to Challenge Gillibrand
The New York political world reacted swiftly and strongly to the possibility of Harold Ford Jr.'s candidacy for the United States Senate, with top Senate leaders trying to squash the bid and close advisers to Mayor Michael R. Bloomberg meeting with Mr. Ford on Thursday to plot strategy for a campaign.
Washington Post: GOP casting wide net in effort to recruit 2010 hopefuls
The Republican road to redemption may well begin in Frog Jump, Tenn., where a gospel-singing farmer with no political experience is running for Congress.
New York Times: In Massachusetts, Anxiety for Favored Democrats
Martha M. Coakley, the Democrat running for Senator Edward M. Kennedy's seat in Massachusetts, had seemed so certain of winning the special election on Jan. 19 that she barely campaigned last month. But the dynamic has changed in recent days. The news that two senior Democratic senators will retire this year in the face of bleak re-election prospects has created anxiety and, even in this bluest of states, a sense that the balance of power has shifted dramatically from just a year ago.
Hartford Courant: Blumenthal, At Long Last, Leaving His Comfort Zone
With U.S. Sen. Christopher J. Dodd saying Wednesday that he won't seek re-election, Connecticut will now see if the moves Blumenthal has perfected as the state's most enduringly visible but largely unchallenged politician can land him in the biggest government arena outside the presidency.
NATIONAL
For the latest national news: www.CNN.com
CNN: Two security contractors charged in Afghanistan killings
Two men who worked as security contractors for the company formerly known as Blackwater have been charged with murder in the killings of two Afghan men, federal prosecutors announced Thursday.
CNN: New Jersey Senate defeats same-sex marriage bill
A bill that would have legalized same-sex marriage in New Jersey was defeated in the state Senate Thursday by a vote 14-20.
CNN: Legalizing unauthorized immigrants would help economy, study says
Legalization of the more than 11 million unauthorized immigrants in the United States would raise wages, increase consumption, create jobs and generate more tax revenue, two policy institutes say in a joint report Thursday.
Boston Globe: Detained immigrants were set to clear Gillette snow
Dozens of immigrants pulled over Wednesday in Foxborough during a federal search for fugitives from deportation were on their way to Gillette Stadium to shovel snow before this weekend's New England Patriots playoff game, Guatemala's consul in Rhode Island said yesterday.
CNN: Survey: More than 1 in 10 youth inmates say they were sexually abused
More than one in 10 juvenile detainees in major U.S. facilities say they experienced some form of sexual abuse or sexual victimization while in detention, according to a report Thursday by the Department of Justice.
INTERNATIONAL
For the latest international news: http://edition.cnn.com
CNN: Suicide bomber at Afghan base was 'loner,' his mother says
The suicide bomber who killed eight people at a U.S. base in Afghanistan last week was a loner since childhood, his mother told CNN on Thursday.
Washington Post: Iraq bars 15 political parties with Baathist ties from upcoming elections
At least 15 parties will be banned from upcoming parliamentary elections because they have been linked to Saddam Hussein's Baath Party or have promoted Baathist ideals, Iraqi officials said Thursday.
Foreign Policy: U.S. Embassy in Baghdad has plans to double in size
The U.S. Embassy in Baghdad is planning to double its ranks as it takes over a host of missions for the military there, according to America's No. 2 diplomat in Iraq.
CNN: Israeli airstrikes on Gaza hit weapons shop, 3 tunnels
Israel launched four airstrikes in Gaza on Thursday, targeting a weapons shop and two smuggling tunnels, the Israel Defense Forces said. A third tunnel, described as a "terror tunnel" with access to Israel, also was hit, an IDF spokeswoman said. At least one Palestinian was killed and four others were injured from the airstrikes on two tunnels in the southern town of Rafah, according to Hamas security sources.
Der Spiegel: Merkel Coalition Split on Afghanistan Strategy
The US clearly expects Germany to increase the number of troops it has stationed in Afghanistan. But Chancellor Merkel's government is a long way from agreement on the issue. With an Afghanistan conference looming in London, however, Berlin is running out of time.
The Guardian: British troops tried to rescue hostages at Iran border
British troops in southern Iraq were scrambled to the Iranian border after the abduction of five British hostages in May 2007, in a failed attempt to stop them being taken into Iran, the Guardian has learned.
Times of London: Gas supply rationed as temperature is set to drop to -22C
The gas was turned off for nearly 100 businesses yesterday to protect domestic power supplies after unprecedented demand brought on by the cold weather.
BUSINESS
For the latest business news: www.CNNMoney.com
CNNMoney: Uh-oh: The return of $3 gas
Baby, it's cold outside! And that's bad news for anybody who's been to the gas station lately. The frigid temperatures across much of the United States so far this year are one reason why energy prices have recently spiked. Crude oil is now hovering around $82.50 a barrel, barely below a 14-month high.
Bloomberg: Geithner's Fed Told AIG to Limit Swaps Disclosure
The Federal Reserve Bank of New York, then led by Timothy Geithner, told American International Group Inc. to withhold details from the public about the bailed-out insurer's payments to banks during the depths of the financial crisis, e-mails between the company and its regulator show.
Wall Street Journal: Google Seeks to Tap Power Markets
As Google Inc. grows, so does its appetite for energy. The Internet giant has taken the unusual step of applying for approval from the Federal Energy Regulatory Commission to become an electricity marketer, essentially giving it the authority to buy and sell bulk power at market prices, just the way large utilities and energy traders do.
Bloomberg: Bank of America Expects Record Bonuses for Some Top Performers
Bank of America Corp., the biggest U.S. lender, expects to pay record bonuses to some investment bankers while keeping the overall cost of incentive compensation below previous years, according to a company spokesman.
USA Today: New ad campaign touts 'made in China'
Tainted toothpaste, drugged catfish, lead-painted Elmos, poison pet food. Scandals involving Chinese-made products have ordinary people here worried that a bad reputation threatens to derail their status as No. 1 exporter in the world. So what to do? Call in Madison Avenue.
In Case You Missed It
President Obama says he takes responsibility for the security lapses during the Christmas Day terror attempt.
Paula Newton retraces the Christmas terror suspect's life as a student in Yemen.
Subscribe to the CNN=Politics DAILY podcast at http://www.cnn.com/politicalpodcast
And now stay posted on the latest from the campaign trail by downloading the CNN=Politics SCREENSAVER at http://www.CNN.com/situationroom