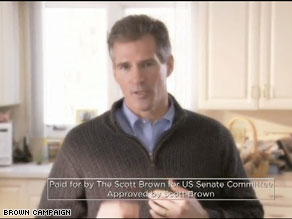 Brown says Coakley trying 'to tear me down'.
(CNN) - Republican Senate candidate Scott Brown of Massachusetts is launching a new ad Tuesday accusing Democratic opponent Martha Coakley of trying to "tear [him] down."
The ad comes hours after the two candidates debated and Coakley hit the airwaves with a television commercial declaring Brown is in "lockstep with Washington Republicans."
The ad also comes a day after the Brown campaing raised over $1 million online in a planned so-called "money bomb," double the campaign's original goal.
Recent polls suggest the race to fill the late Sen. Ted Kennedy's seat may be closer than expected in its final days, though Coakley still holds a clear advantage in the overwhelmingly Democratic state. Election Day is January 19.
Full script:
SCOTT BROWN: "I'm Scott Brown running for the United States Senate.
By now, you've probably seen the negative ads launched by Martha Coakley and her supporters.Instead of discussing issues like health care and jobs, they decided the best way to stop me is to tear me down.

But the old way of doing things won't work anymore.

Their attack ads are wrong and go too far.

I'm Scott Brown, and I approve this message because I'm running in the name of every independent thinking voter to take on the political machine and their candidate.

And with your help, I intend to win."