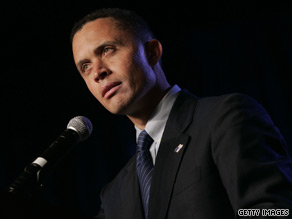 Ford may run for Senate in New York.
(CNN) - Former Rep. Harold Ford Jr. of Tennessee says he may challenge fellow Democrat Kirsten Gillibrand for her Senate seat in New York.
"It's true: I am strongly considering running for the United States Senate," Ford writes in Tuesday's New York Post.
The five term congressman, who narrowly lost a 2006 bid for the Senate in Tennessee, now lives in New York and lately has hinted that he might make take on Gillibrand for their party's Senate nomination. Gillibrand, a former congresswoman from upstate New York, was named a year ago to replace Hillary Clinton, who stepped down from her Senate seat after being confirmed as secretary of state. Gillibrand is running to serve the final two years of Clinton's term.
Ford's move may anger the White House, which supports Gillibrand and has helped clear the field of any potential Democratic rivals.
"I think the White House is quite happy with the leadership and the representation of Senator Gillibrand in New York," White House Press Secretary Robert Gibbs said Monday when asked about a possible bid by Ford.  "We're supporting her reelection."
Asked about new attempts by the White House to clear the field again, Gibbs said "stay tuned."
Ford appeared to strike back, saying, "Some have already questioned whether I should be running. Others are falsifying my record in public life. New Yorkers deserve a free election."
Ford also appeared to push back against arguments that he's not really a New Yorker.
"I moved to New York more than three years ago, have been a New York resident for more than a year and am a registered voter in New York City. My wife and I both work in Manhattan, proudly call lower Manhattan home and plan to start and raise a family in New York," writes Ford.
It's worth noting that Clinton and Robert Kennedy, who served as a senator from New York in the 1960's, both moved to the state in their adult years before running for office.
Ford also attempted to shoot down the argument that he's too conservative for New York Democrats: "I am pro-choice - have always been since I entered politics almost 15 years ago. My cumulative grade with NARAL during 10 years in Congress was right at 80 percent. Any assertions to the contrary are false."
Surveys suggest Gillibrand could be vulnerable in a battle with a strong opponent. A poll released early last month by Quinnipiac University indicated that 4 in 10 New York voters approved job Gillibrand's doing as senator, with an equal amount unsure and 1 in 5 disapproving of her performance in office. And in a Siena poll released in November,  just under a third of the New York voters questioned thought she deserved to hold on to her seat, and 34 percent said they'd back another candidate.
But Republicans are without a big name candidate at this time. Former New York City Mayor and 2008 GOP presidential candidate Rudy Giuliani has said no to a senate run, as has 9-term Rep. Peter King. Former New York State Governor George Pataki appears non-committal about making a bid.
Follow Paul Steinhauser on Twitter: @psteinhausercnn