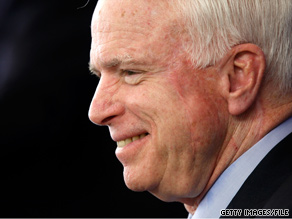 McCain is not calling on Reid to step down.
(CNN) - Arizona Sen. John McCain said Tuesday he's not calling for Senate Majority Leader Harry Reid to resign his post in the wake of the Nevada Democrat's controversial comments about then-Presidential candidate Barack Obama, but said there is a "stunning double standard" between how Democrats are treating Reid versus then-Senate Majority Leader Trent Lott seven years ago.
"That's up to the voters of Nevada. I didn't know those kind of words were still in American lexicon," McCain said on NBC's The Today Show when asked if Reid should step aside.
"But I must comment on the stunning double standard as far as the treatment of Sen. Lott who also made unfortunate and inopportune remarks and the treatment of Harry Reid by the liberal left."
Lott lost his post as Senate majority leader in 2002 after saying that the nation would have been better off if one-time segregationist candidate Strom Thurmond had been elected president.
Asked directly if he thought Reid might have racial insensitivity or worse, Mcain said, "No, he is not."
The controversy is centered on remarks published in the book "Game Change," by Mark Halperin and John Heilemann that cites Reid as saying privately in 2008 that Obama could succeed as a black presidential candidate partly because of his "light-skinned" appearance and speaking patterns "with no Negro dialect, unless he wanted to have one."
Reid apologized to Obama after excerpts from the book were released and Obama said he considered the issue closed. Republican National Committee Chairman Michael Steele and two top Senate Republicans have called on Reid to step down from his leadership post.
In the interview with NBC, McCain also refused to discuss revelations in "Game Change" that then-Alaska Gov. Sarah Palin was barely vetted before the Arizona Republican asked her to be on his presidential ticket.
"I'm proud of Sarah Palin, I'm proud of the campaign we waged, she energized our party, she will be a major factor in politics in the future...I'm not going to spend time looking back at what happened over a year ago, when we've got two wars to fight, 10 percent unemployment in my state, and things to do," McCain said.