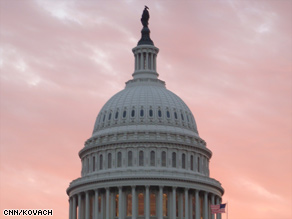 The CNN Washington Bureau's morning speed read of the top stories making news from around the country and the world.
WASHINGTON/POLITICAL
For the latest political news: www.CNNPolitics.com
CNN: Obama to announce bank fees to cover billions in TARP losses
President Obama, looking to recoup billions in expected losses from the Troubled Asset Relief Program, will announce a plan Thursday to impose fees on the country's biggest financial institutions, a senior administration official told CNN.
Bloomberg: California Creditors See IOUs With Schwarzenegger Missing Obama
California's hopes are fading for federal help in closing a projected $19.9 billion deficit that has caused the lowest-rated state's borrowing costs to rise 26 percent in three months.
CNN: President Obama to speak at House GOP retreat
Rep. Mike Pence, chair of the House Republican Conference, said Tuesday that President Obama had accepted an invitation to address GOP members of Congress at the group's retreat later this month.
Washington Post: In Massachusetts, Republican Brown steps up campaign for Kennedy's Senate seat
Fueled by the energy of conservative activists, a solid debate performance and a 24-hour, $1.3 million Internet fundraising haul, Massachusetts state Sen. Scott Brown (R) has thrown a major scare into the Democratic establishment in his bid to win next Tuesday's special Senate election over once heavily favored Attorney General Martha Coakley.
Boston Globe: Union plans major ad buy for Coakley
A major national union supporting Democrat Martha Coakley is taking out a massive TV ad buy that slams her Republican rival, Scott Brown, for his positions on abortion and climate change. The ad taken out by the Service Employees International Union, will begin airing statewide tomorrow. The buy size is $685,000, one of the largest of the election.
New York Times: Senate Hopeful in New State Airs Evolving Views
In his first extensive interview since he began weighing a run for United States Senate from New York, Harold E. Ford Jr. distanced himself from his previous opposition to same-sex marriage, his description of himself as "pro-life" and his push to permit local police officers to enforce federal immigration law, and said he would be a fiercer advocate for New York than Senator Kirsten E. Gillibrand.