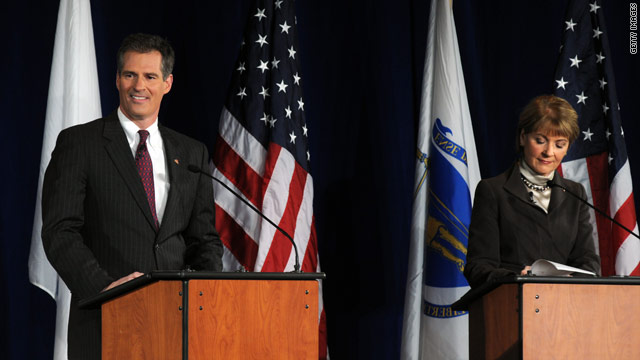 Republican Scott Brown and Democrat Martha Coakley debate in Boston, Massachusetts, on Monday.

Washington (CNN) - A contentious special election to fill late Sen. Ted Kennedy's Senate seat could have an effect on the cause he championed - health care.
Republican candidate Scott Brown, a state senator, is facing off against Massachusetts Attorney General Martha Coakley. Election Day is January 19.
Recent polls suggest the race may be closer than expected in its final days, though the Democrat still holds a 15-point advantage in the overwhelmingly Democratic state.
No Republican has won a Senate seat in Massachusetts since 1972.
CNN political analyst David Gergen, who moderated a debate between Brown and Coakley Monday night, said part of the closeness of the race is tied to the health care reform bill in Congress.
"And his campaign has gotten a lot of traction suddenly, unexpectedly in the last few weeks by exactly that campaign pledge: 'I will send this bill back,'" Gergen said.