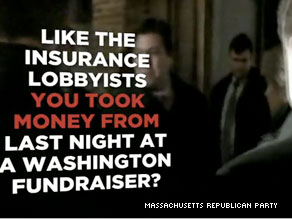 Republicans criticize Democrat Martha Coakley for attending DC fundraiser.
Washington (CNN) – Massachusetts Republicans wasted little time Wednesday criticizing Democrat Martha Coakley for attending a fundraiser one week before Bay State voters elect a successor to the late Sen. Edward Kennedy.
The Massachusetts Republican Party will release a new Web video this morning accusing Coakley of accepting contributions from health care lobbyists at the same time touting her efforts to hold "health insurers accountable for fraud and denying care."
Coakley, a Democrat, holds a double-digit lead over Republican Scott Brown in next week's special election for Kennedy's Senate seat. But the race is tightening and the national political parties and outside interest groups are focusing their efforts on this race, because the outcome could determine the fate of health care reform in Congress.
Democrats currently have 60 votes in the 100 seat Senate – enough to overcome a GOP filibuster on Democratic health care reform legislation. If Brown were to win, he would boost the number of Republicans serving in the chamber to 41 – enough to sustain a filibuster.
Follow Mark Preston on Twitter: @prestoncnn