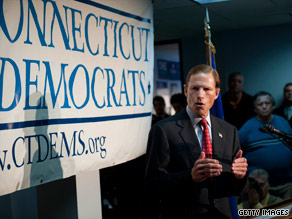 Blumenthal has a big lead over his potential GOP opponents, a new poll suggests.
(CNN) - The new Democratic Senate candidate in Connecticut has large leads over his Republican opponents in the battle to replace retiring Sen. Chris Dodd, according to a new poll.
A Quinnipiac University survey of registered voters in Connecticut indicates that state Attorney General Richard Blumenthal leads former Rep. Rob Simmons 62 to 27 percent, former professional wrestling executive Linda McMahon 64 to 23 percent and businessman Peter Schiff 66 to 19 percent in hypothetical general election matchups.
Blumenthal, Connecticut's attorney general for the past two decades, announced his candidacy on January 6, a couple of hours after fellow Democrat Dodd, a five term senator, announced he would not run for re-election this November. Dodd had been considered one of the most vulnerable Democrats seeking-re-election in 2010. The Quinnipiac poll was conducted January 8-12.
In the general election match-ups, the survey indicates Blumenthal is grabbing the support 9 out of 10 Democratic voters, around 6 out of 10 independents and around a third of Republican voters.
Thirty-seven percent of Republicans questioned in the poll say they back Simmons in a GOP primary, with 27 percent supporting McMahon and 4 percent backing Schiff. Blumenthal leads Merrick Alpert 82 to 4 percent in a Democratic primary matchup.
According to the survey, 84 percent of Connecticut voters approve of the job Blumenthal's doing in office.
"Attorney General Richard Blumenthal's job approval is unbelievably high, higher than any other politician we've ever measured, other than former President George W. Bush after 9/11," says Quinnipiac University Poll Director Douglas Schwartz.
It's a different story for Sen. Joe Lieberman. Fifty-four percent of people questioned disapprove of the job the Independent senator's doing in office, up 10 points from November. Thirty-nine percent approve, down 10 points from November.
The survey indicates that 58 percent disapprove of the job Dodd's doing in office, with 36 percent giving him a thumbs up. President Barack Obama's approval rating stands at 55 percent, his lowest level in Quinnipiac polling in Connecticut.
The Quinnipiac University survey was conducted by telephone, with 1,430 people questioned. The poll's overall sampling error is plus or minus 2.6 percentage points.