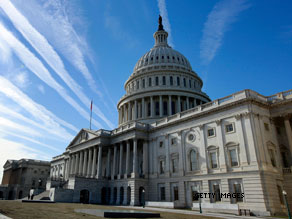 CNN Poll: Majority support taxing wealthy rather than high end plans.
Washington (CNN) - As House and Senate Democrats try to merge two separate health care reform bills, a new national poll suggests that when it comes to paying for the legislation, Americans favor provisions in the House bill over those in the Senate version.
And a CNN/Opinion Research Corporation survey released Thursday also indicates that most Americans don't register either a strong negative or positive reaction to the bills.
According to the poll, 61 percent of the public favor the House provision, which taxes people with high incomes regardless of the kind of health insurance they have. Twenty-nine percent favor the Senate provision, which raises taxes on high-quality health insurance plans, regardless of the amount of money made by the people covered by those plans.
Congressional Democratic negotiators from both chambers and White House officials are trying to find common ground on one of the most divisive issues, the Senate bill's inclusion of an excise tax on high-end insurance plans. Liberals in the House and labor unions are particularly upset with the provision, arguing that it would it would hurt union members who traded higher salaries for more generous health benefits. Proponents of the tax on such "Cadillac" plans argue it's one of the most effective ways to curb medical inflation. President Barack Obama has made clear he favors the Senate Democrats' approach.
"A tax on the wealthy is obviously most popular with lower-income Americans, but it is also the preference of people making $100,000 a year or more," says CNN Polling Director Keating Holland. "Fifty percent of people in that income level prefer a tax on higher-income Americans to a tax on high-quality health care plans. Thirty-six percent of them prefer the tax on insurance plans rather than the income-based tax."
House Speaker Nancy Pelosi and Senate Majority Leader Harry Reid would like to pass a compromise bill before the president's upcoming State of the Union address, though some Democrats have indicated that timetable could slip.
Another divisive issue is the so-called "public option," a health insurance option administered by the federal government that would compete with plans offered by private health insurance companies. The House bill has the public option while the Senate verions does not include the provision. Fifty-four percent of people questioned in the poll support a government run option, with 46 percent opposed.
According to the survey, only four in ten support the health care bills passed by the House and Senate, with 57 percent opposed. But only 45 percent oppose the bills because they say they are too liberal. One in ten suggest the oppose the legislation because it's not liberal enough.
The poll also indicates that only 28 percent say they would be angry if health care legislation passed, with another 23 percent suggesting they'd be displeased. One in three questioned say they'd be please, with only 14 percent saying they'd enthusiastically support the bills.
"Despite the controversy that has surrounded that legislation since last summer's contentious town hall meetings, most Americans don't seem to have an extreme position on health care," adds Holland. "This may explain why the Democrats are going full-steam ahead on health care despite majority opposition to their bills. The number who oppose the bills because they are not liberal enough might also suggest to Democrats that those voters will wind up supporting Democratic candidates by election day."
The CNN/Opinion Research Corporation poll was conducted January 8-10, with 1,021 adult Americans questioned by telephone. The survey's overall sampling error is plus or minus 3 percentage points.
–CNN Deputy Political Director Paul Steinhauser contributed to this report
Follow Paul Steinhauser on Twitter: @psteinhausercnn