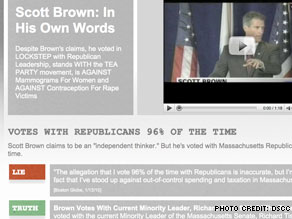 Democrats release new Web video on Republican Scott Brown.
Washington (CNN) – Senate Democrats criticized Republican Scott Brown Thursday with a new Web video over his policy positions and accused him of lying about his voting record.
"Despite Brown's claims, he voted in lockstep with Republican Leadership, stands with the Tea Party movement, is against mammograms for women and against contraception for rape victims," the DSCC charges in a research document that is wrapped around the video.
The Democratic Web video follows a Massachusetts Republican Party Web video I wrote about Wednesday that questions Democrat Martha Coakley's claims of independence from the health care industry.
Coakley and Brown are running in the special election for the late Sen. Edward Kennedy's seat.
A DSCC spokesman said the research document that accompanies the video will be updated in "real time" through the election. In the past few days, Republicans and Democrats have stepped up the distribution of opposition research on their opponent as they seek to shape the narrative of the race in the closing days of the campaign.
Follow Mark Preston on Twitter: @prestoncnn