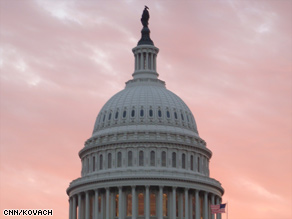 The CNN Washington Bureau's morning speed read of the top stories making news from around the country and the world.
WASHINGTON/POLITICAL
For the latest political news: www.CNNPolitics.com
CNN: Obama pledges 'aggressive' relief effort
President Obama pledged Wednesday that the U.S. government would lead "a swift, coordinated and aggressive effort to save lives" in Haiti after that country's powerful 7.0-magnitude earthquake.
CNN: Democrats hold intense day-long negotiations on health care bills
What was expected to be a morning meeting with the president on health care turned into all-day, intense negotiations with Democratic leaders trying to find compromise on differences over House and Senate health care bills.
CNNMoney: Financial Crisis Inquiry Commission hears from bank CEOs
Four top bank chief executives told a panel probing the financial crisis Wednesday that they made mistakes but didn't realize how bad they were at the time.
Washington Times: EXCLUSIVE: Obama wins more cuts in spending than Bush
President Obama notched substantial successes in spending cuts last year, winning 60 percent of his proposed cuts and managing to get Congress to ax several programs that had bedeviled President George W. Bush for years.
Wall Street Journal: Former Congressman Campbell to Drop California Gubernatorial Bid
Former U.S. Rep. Tom Campbell plans to announce that he will end his bid for California's governorship and will instead enter the U.S. Senate race to try to unseat Democratic incumbent Barbara Boxer, according to one of his donors and others familiar with Mr. Campbell's decision.
Boston Globe: Coakley supporter says he was 'a little too aggressive'
A supporter of Democratic US Senate candidate Martha Coakley has acknowledged that he acted too aggressively in an incident Tuesday night in which he jostled a reporter for a conservative magazine who was pursuing Coakley for a comment and the reporter fell to the ground.
CNN: Campaign commercials flood Massachusetts TV
With less than a week to go until a special Senate election in Massachusetts, the state's airwaves are packed with campaign ads as Democrat Martha Coakley and Republican Scott Brown battle to fill the last three years of the late Sen. Ted Kennedy's term.
The Detroit News: Ilitch mulls run for governor
The political spotlight in the up-for-grabs Democratic gubernatorial primary abruptly shifted to Detroit businesswoman and University of Michigan regent Denise Ilitch on Wednesday after she met with the president at the White House. Although she's considering it, she hasn't decided whether to jump in the race, a knowledgeable source says.
CNN: High court rules against video of same-sex marriage trial
The Supreme Court has again indefinitely blocked plans to disseminate video of an important federal court case involving same-sex marriage in California.
San Francisco Chronicle: Trial asks if anti-gay bias had role in Prop. 8
Opponents and supporters of same-sex marriage dueled in federal court Wednesday over the question of whether anti-gay discrimination has largely faded or endures in ballot measures like California's Proposition 8.
NATIONAL
For the latest national news: www.CNN.com
Los Angeles Times: Parts sent to Iran could be used for nuclear weapons; 3 charged in alleged plot
Three men, including an Iranian-born chemical engineer living in Glendale, have been charged in a scheme to smuggle sophisticated industrial components into Iran that could be used in the development of a nuclear weapon, authorities said Wednesday.
USA Today: TSA plan skips many checkpoints
The Transportation Security Administration's plan to install body scanners at hundreds of security checkpoints still could leave many U.S. airports inadequately protected against terrorists carrying explosives, aviation experts say.
Washington Post: Top public universities faulted on financial aid
Many of the nation's top public universities are giving millions of dollars in financial aid to students from relatively wealthy families instead of to those who urgently need it, resulting in campuses that are often less diverse than those at elite private schools, a new report says.
Houston Chronicle: Sparks fly over use of 'Negro' by Census
The U.S. Census Bureau has found itself enmeshed in controversy over the use of an old bit of nomenclature to identify race on its 2010 Census form.
INTERNATIONAL
For the latest international news: http://edition.cnn.com
CNN: Haiti appeals for aid; official fears 100,000 dead after earthquake
Rescue workers struggled to clear rubble and bodies Wednesday from the streets of Haiti's "flattened" capital, where a government official said the death toll from Tuesday's 7.0-magnitude earthquake may exceed 100,000.
CNN: 'Credible threat' from al Qaeda in Yemen
The United States is closely monitoring a "credible threat" from al Qaeda in Yemen against the U.S. homeland, two senior officials told CNN.
London Times: Bed-ridden Nigerian President eclipsed by his deputy
In a ruling effectively sidelining Nigeria's absent President, a high court judge decided yesterday that his deputy can take executive decisions, making Goodluck Jonathan the de facto leader of Africa's most populous country.
Washington Post: Google China cyberattack part of vast espionage campaign, experts say
Computer attacks on Google that the search giant said originated in China were part of a concerted political and corporate espionage effort that exploited security flaws in e-mail attachments to sneak into the networks of major financial, defense and technology companies and research institutions in the United States, security experts said.
Bloomberg: Kan Ready to Address Yuan, Signals BOJ Can Do More
Japan's Finance Minister Naoto Kan said he's prepared to address China's currency at a Group of Seven meeting next month and signaled the Bank of Japan has scope for further action to aid the economy.
Bloomberg: Yushchenko Leaves Orange Revolution Promises Undone
Ukrainian President Viktor Yushchenko has feuded with Russia and struggled to forge links with the European Union since taking power in the 2004 Orange Revolution. Voters may now turn to his rivals to mend ties with both East and West.
Der Spiegel: What Comes Next for the Crisis-Stricken Country?
Iceland has been like the canary in the coalmine of the global economic crisis. The government was driven out of office, the banks were nationalized and Iceland's people will be bailing the country out for years to come.
BUSINESS
For the latest business news: www.CNNMoney.com
CNNMoney: Taxorama: 7 changes on the docket
Everybody's angry at banks. Federal deficits are wide and need addressing. And the president and Congress are starting to map out next year's budget. That means they're talking taxes in Washington. The capital is awash in proposals for how to raise revenue and score political points.
Wall Street Journal: 'Tonight Show' Viewership Rises Amid Turmoil
As NBC and Conan O'Brien engage in a game of brinkmanship over the future of "The Tonight Show," Mr. O'Brien's audience has surged, especially among younger people. About 42% more viewers between the ages of 18 and 49 watched the "The Tonight Show with Conan O'Brien" Tuesday compared to a day earlier, according to preliminary Nielsen data provided by NBC.
Wall Street Journal: H-P, Microsoft Partner Against Rivals
Hewlett-Packard Co. and Microsoft Corp. said they will invest $250 million in a partnership to more tightly couple their software and hardware products, as rivals Oracle Corp., International Business Machines Corp. and others remake themselves as one-stop shops for technology.
Wall Street Journal: Pickens Shelves Texas Wind Project
T. Boone Pickens, the oilman and clean-energy booster, shelved his massive wind-power project in Texas even as he stepped up his push to increase the use of natural gas for transportation. Cheap natural gas, the lack of electricity-transmission lines and the lingering credit crunch have combined to take the shine off large-scale renewable-energy projects, and those factors led Mr. Pickens to halve his $2 billion wind-turbine order with General Electric Co., said a spokesman for Mr. Pickens's Mesa Power LP.
Bloomberg: CFTC to Propose New Limits on Energy Speculation to Curb Prices
The Commodity Futures Trading Commission will take another step today in its efforts to rein in energy speculation, proposing hard limits on the number of futures a single investor can hold.
Anchorage Daily News: Arctic fiber-optic cable could benefit far-flung Alaskans
Alaska Native corporations and a multinational firm are planning to build the first fiber-optic cable between Asia and Europe through the Arctic.The project, estimated to cost roughly $1 billion, involves laying 10,000 miles of undersea fiber-optic cable from Tokyo, along the Alaska coast, through the Northwest Passage, past the southern coast of Greenland to London, company officials said Wednesday.
In Case You Missed It
CNN's Anderson Cooper flew over Port-au-Prince, Haiti, and describes the devastation he saw.
Bill Clinton urges the world to help Haiti.
Subscribe to the CNN=Politics DAILY podcast at http://www.cnn.com/politicalpodcast
And now stay posted on the latest from the campaign trail by downloading the CNN=Politics SCREENSAVER at http://www.CNN.com/situationroom