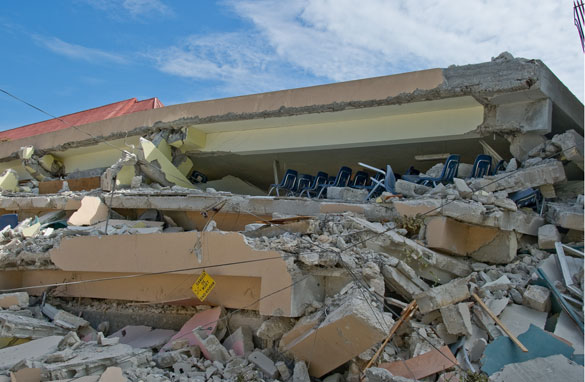 The U.S. government announced the death of a U.S. citizen in Haiti Thursday. (Photo Credit: Getty Images)
(CNN) - The U.S. government announced the death of a U.S. citizen in Haiti Thursday while a seminary in Iowa said one of its students is believed to have died.
Victoria DeLong, a cultural affairs officer in Haiti, died in her home when the 7.0-magnitude earthquake hit, Assistant Secretary of State P.J. Crowley said. DeLong began serving in Haiti last year, he said, and had been with the State Department since 1983.
Also, the Wartburg Theological Seminary in Dubuque, Iowa, said student Benjamin Larson, 25, of LaCrosse, Wisconsin, a senior at the seminary, was believed to have died in Haiti. There was no official confirmation of Larson's death.
It is hard to determine exactly how many Americans are missing as a result of Tuesday's earthquake, Crowley said. U.S. officials have previously indicated some Americans living in the stricken Caribbean country might not want or be able to get in touch with acquaintances or officials in the United States.
He said earlier, however, that three Americans in Haiti in an official capacity were missing.

The U.S. Coast Guard evacuated seven U.S. citizens for medical reasons Thursday morning, State Department officials said.
Most of those injured are being sent directly to Guantanamo Bay Naval Base in Cuba. From there, some are being taken on to Jacksonville Memorial Hospital in Jacksonville, Florida, the officials said.
Roughly 160 Americans have been evacuated from Haiti over the past day in Coast Guard C-130 transport airplanes and an Icelandic Airways plane previously used to bring supplies into Port-au-Prince, Crowley added.
Many of them are traveling to Santo Domingo, the capital of the Dominican Republic, where they're being housed by U.S. citizens who live there until they can make further travel arrangements, State Department officials said.
Another 370 Americans are currently registered to depart Haiti, Crowley said. Multiple flights were scheduled to leave the country Thursday.
–CNN's Jill Dougherty and Elise Labott contributed to this report.