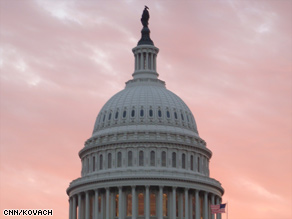 The CNN Washington Bureau's morning speed read of the top stories making news from around the country and the world.
WASHINGTON/POLITICAL
For the latest political news: www.CNNPolitics.com
CNN: Union leaders: Deal reached on taxing 'Cadillac' health care plans
Union leaders, the White House and congressional Democrats have agreed to limit the reach of a tax on high-end health insurance plans that would help pay for a proposed overhaul of the U.S. health care system, union leaders involved in the talks said Thursday.
CNN: Poll: Most prefer House's tax on rich over Senate's high-end policies
As House and Senate Democrats try to merge two separate health care reform bills, a new national poll suggests that when it comes to paying for the legislation, Americans favor provisions in the House bill over those in the Senate version.
The Hill: Reid: Senate has time for climate bill
Majority Leader Harry Reid (D-Nev.) on Thursday said that there is room on the busy Senate calendar to bring up a sweeping energy and climate change bill this spring.
Politico: GOP: We'll take back the House
GOP leaders have privately settled on a strategy to win back the House by putting the vast majority of their money and energy into attacking Democrats — and turning this election into a national referendum on the party in power.
New York Times: Cuomo's War Chest Is Five Times as Big as Paterson's
Attorney General Andrew M. Cuomo has not formally announced his candidacy for governor, but he is already running ahead in the fund-raising race.Mr. Cuomo is to report on Friday that he has more than $16 million in his campaign account, dwarfing Gov. David A. Paterson's war chest of more than $3 million.
CNN: Massachusetts Senate race now a toss-up, analysts say
The Massachusetts Senate race between Democrat Martha Coakley and Republican Scott Brown is now a tossup, according to two respected, non-partisan analysts.