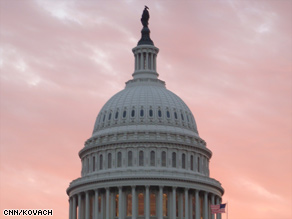 The CNN Washington Bureau's morning speed read of the top stories making news from around the country and the world.
WASHINGTON/POLITICAL
For the latest political news: www.CNNPolitics.com
CNN: Union leaders: Deal reached on taxing 'Cadillac' health care plans
Union leaders, the White House and congressional Democrats have agreed to limit the reach of a tax on high-end health insurance plans that would help pay for a proposed overhaul of the U.S. health care system, union leaders involved in the talks said Thursday.
CNN: Poll: Most prefer House's tax on rich over Senate's high-end policies
As House and Senate Democrats try to merge two separate health care reform bills, a new national poll suggests that when it comes to paying for the legislation, Americans favor provisions in the House bill over those in the Senate version.
The Hill: Reid: Senate has time for climate bill
Majority Leader Harry Reid (D-Nev.) on Thursday said that there is room on the busy Senate calendar to bring up a sweeping energy and climate change bill this spring.
Politico: GOP: We'll take back the House
GOP leaders have privately settled on a strategy to win back the House by putting the vast majority of their money and energy into attacking Democrats — and turning this election into a national referendum on the party in power.
New York Times: Cuomo's War Chest Is Five Times as Big as Paterson's
Attorney General Andrew M. Cuomo has not formally announced his candidacy for governor, but he is already running ahead in the fund-raising race.Mr. Cuomo is to report on Friday that he has more than $16 million in his campaign account, dwarfing Gov. David A. Paterson's war chest of more than $3 million.
CNN: Massachusetts Senate race now a toss-up, analysts say
The Massachusetts Senate race between Democrat Martha Coakley and Republican Scott Brown is now a tossup, according to two respected, non-partisan analysts.
New York Times: 3rd-Party Candidate Named Kennedy Could Tip Senate Race in Massachusetts
In most elections, a politician calling himself the Tea Party candidate would cheer Democrats, raising hopes that he would siphon votes from Republicans by attracting some of the disaffected anti-Washington, anti-Obama electorate.But when the election is being held to fill a seat that was left vacant by the death of Senator Edward M. Kennedy, and the Tea Party candidate happens to be named Joe Kennedy, things get a little murkier.
Boston Globe: Brown's run may be model for GOP
National GOP strategists say that the unexpected tightening in the Massachusetts Senate race has demonstrated the potency of the electorate's antipathy for the Democratic health care legislation, and that Republican Scott Brown's campaign could become a template for Republican challengers across the country in this year's midterm elections.
San Francisco Chronicle: Campbell could reshape Senate race
Unable to compete against much wealthier candidates, former San Jose Rep. Tom Campbell will reshape the U.S. Senate race that he jumped into Thursday more than the governor's campaign he just abandoned, analysts said.
NATIONAL
For the latest national news: www.CNN.com
CNN: Source: Terror threat by 'viable operatives' extends beyond aviation
Information gained since the attempted airplane bombing on Christmas Day has U.S. officials concerned that al Qaeda in Yemen has "trained and equipped ... viable operatives" to strike U.S. targets - including targets unrelated to aviation, a reliable source familiar with the investigation told CNN Thursday.
CBS News: Alleged Quake Scams Popping Up Already
Less than 24 hours after Tuesday's devastating earthquake hit Haiti, the FBI received complaints of charity fraud."The Early Show" has learned that the bureau is considering criminal charges against one Web site soliciting donations for victims of the temblor.
Los Angeles Times: Handling of Ft. Hood shooting suspect could bring discipline
Between five and eight Army officers are expected to face discipline for failing to take action against the accused Ft. Hood shooter, Maj. Nidal Malik Hasan, over a series of behavioral and professional problems in the years leading up to the November rampage.
CNN: Wizards' Gilbert Arenas charged with felony gun violation
Washington Wizards point guard Gilbert Arenas has been charged with a felony gun violation after admitting he drew guns in the team locker room in a highly publicized December 21 incident.
USA Today: Thousands of high-risk kids missing 2nd H1N1 flu doses
Hundreds of thousands of children are overdue for a second dose of H1N1 vaccine that's needed to fully protect them from swine flu, a USA TODAY review of data from 10 states shows.
INTERNATIONAL
For the latest international news: http://edition.cnn.com
CNN: Haitians dig themselves out as quake damage slows outside aid
Haitians took recovery efforts into their own hands Thursday as aid workers trickled into the quake-battered capital where impassable roads, damaged docks and clogged airstrips slowed the arrival of critically needed assistance.
New York Times: Cuba Agrees to U.S. Medevac Flights
The United States has struck an agreement with the Cuban government to send medical evacuation flights with victims from the Haiti earthquake through restricted Cuban airspace, an official said, reducing the flight time to Miami by 90 minutes.
Christian Science Monitor: Marines to aid Haitian earthquake relief. But who's in command?
Some 5,700 US marines and soldiers are expected to join Haitian earthquake relief efforts this weekend. The UN says its peacekeeping force should be in command. The US says no.
Wall Street Journal: A Revolutionary Idea in Mexico: Don't Have One This Century
The arrival of 2010 is spurring looks backwards and fears of history repeating itself. That's because in the past two centuries, there have been revolutions in Mexico—both in years ending in 10.
New York Times: Iraqi Commission Bars Nearly 500 Candidates
Iraq's independent electoral commission on Thursday barred about 500 candidates from running in parliamentary elections in March, among them an influential Sunni Muslim politician, in a decision that could stoke sectarian tensions here and deprive the vote of crucial legitimacy in the eyes of part of the electorate.
London Times: UK banks face $10bn bill from US over bailouts
Three British banks may have to pay more than $10 billion (£6 billion) to the US Government as part of its crackdown on financial institutions bailed out by taxpayers.
BBC News: Gene map of anti-malaria plant could boost supply
Global supply of a key, plant-based, anti-malaria drug is set to be boosted by a genetic study, scientists say. Researchers have mapped the genes of Artemisia annua to allow selection of high-yield varieties.
BUSINESS
For the latest business news: www.CNNMoney.com
CNNMoney: Obama calls for bailout tax
President Obama on Thursday called on Congress to tax the largest banks to ensure that U.S. taxpayers don't lose a penny from the federal bailout of the financial, auto and insurance industries over the past year.
Wall Street Journal: Banks Set for Record Pay
Major U.S. banks and securities firms are on pace to pay their people about $145 billion for 2009, a record sum that indicates how compensation is climbing despite fury over Wall Street's pay culture.
Wall Street Journal: Concern About Fees Threatens to Delay Olympic Bidding
After years of bidding up fees for the rights to televise sports, U.S. media companies are putting on the brakes. Richard Carrion, a member of the International Olympic Committee's executive board, said the organization is seriously considering delaying until next year the bidding for the U.S. media rights for the 2014 and 2016 Olympics because of the ongoing struggles of broadcasters hurt by a rocky advertising market.
Bloomberg: Wall Street May Reduce Compensation Costs to Avoid More Outcry
Wall Street firms, facing pressure from lawmakers and shareholders to rein in pay, may report smaller bonus pools because of lower fourth-quarter revenue and mounting public outrage, analysts say.
Bloomberg: Google Said to Have Tried to Get Support Over Attack
Google Inc. approached other companies to seek their help drawing attention to a cyber attack from China last month and was frustrated by their reluctance to come forward, according to a person familiar with the matter.
In Case You Missed It
CNN's Chris Lawrence interviews a USAID worker who describes the rescue efforts in Haiti
President Obama says he wants a quick and coordinated response from U.S. agencies in providing aid to Haiti.
Subscribe to the CNN=Politics DAILY podcast at http://www.cnn.com/politicalpodcast
And now stay posted on the latest from the campaign trail by downloading the CNN=Politics SCREENSAVER at http://www.CNN.com/situationroom