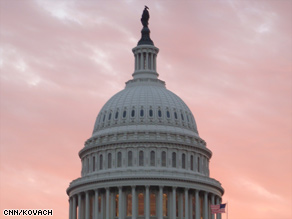 The CNN Washington Bureau's morning speed read of the top stories making news from around the country and the world.
Compiled by Alison Harding
WASHINGTON/POLITICAL
For the latest political news: www.CNNPolitics.com
CNN: Democrats consider backup plan for health care reform
Faced with the once-unthinkable prospect of losing the Massachusetts Senate race, Democratic officials on Capitol Hill are quietly talking about options for passing health care reform without that critical 60th Senate vote.
New York Times: Wall St. Weighs a Challenge to a Proposed Tax
Wall Street's main lobbying arm has hired a top Supreme Court litigator to study a possible legal battle against a bank tax proposed by the Obama administration, on the theory that it would be unconstitutional, according to three industry officials briefed on the matter.
Washington Post: Medicaid provision for Nebraska raises ire
It was a single paragraph, added at the last minute on Page 2,129 of the Senate's mammoth health-care bill: a promise that the federal government would pay forever for extra poor people to join Medicaid in Nebraska. And it triggered a swift, partisan backlash.
The Hill: Ford has shown willingness to defy the Democratic establishment
If Harold Ford Jr. defies the White House and launches a Senate bid in New York, it wouldn't be the first time that he has taken on powerful players in the Democratic Party. Ford's unsuccessful bid to challenge Rep. Nancy Pelosi (D-Calif.) for minority leader in 2002 was a setback to his career, but one that he overcame.
Albany Times-Union: Cuomo piles up huge cash lead
Andrew Cuomo has more than five dollars in his campaign bank account for every dollar that David Paterson has in his fund. … The presumption is that Cuomo, who ran unsuccessfully for governor in 2002 and is rounding out a term as attorney general, will run for Paterson's job. But despite weak polls and a chorus of concerns from party leaders, the governor insists he is still in the race.
SPECIAL COVERAGE OF THE MASSACHUSETTS SENATE CAMPAIGN
Boston Globe: Six factors to watch for Tuesday's election
Massachusetts voters head to the polls Tuesday to fill the first open US Senate seat in 25 years in a race that started out slow but has become the hottest item in national politics.
Patriot-Ledger: SENATE RACE: 5 key differences between Coakley and Brown
What's the difference between U.S. Senate contenders Republican Scott Brown and Democrat Martha Coakley? A lot, apparently.
CNN: Sources: Obama advisers believe Coakley will lose
Multiple advisers to President Obama have privately told party officials that they believe Democrat Martha Coakley is going to lose Tuesday's special election to fill the Massachusetts Senate seat held by the late Ted Kennedy for more than 40 years, several Democratic sources told CNN Sunday.
Attleboro Sun-Chronicle: Local race, national impact
Scott Brown started his race for U.S. Senate talking about a purely local issue, how he got a stoplight for Wampum Corner in Wrentham. As the campaign in Tuesday's special election draws to a close, political observers are saying the election has taken on enormous national implications that go far beyond Wrentham or Massachusetts.
Boston Globe: This Kennedy wants to cut government
His campaign headquarters are in his home. No one on his campaign staff works full time, and he cannot afford to pay them anyway. He can hardly believe he's on the ballot himself. Meet Joseph Lewis Kennedy, who wants to be your next US senator.
CNN: Obama rallies Dems in crucial Massachusetts Senate race
President Obama tried to rally voters behind the Democratic candidate Sunday in a surprisingly close Senate race in Massachusetts, a contest that could imperil his plans to overhaul the U.S. health care system.
Brockton Enterprise: POLL: Demand for absentee ballots surges for Senate election
Hundreds of voters cast last-minute absentee ballots on Friday as the neck-and-neck campaigns of Martha Coakley and Scott Brown bolted with new urgency into the final weekend before Tuesday's special election. Town clerks around the South Shore interpreted this week's unexpected surge in absentee ballot requests as proof that the election had shed its apparent snoozer status of December, when only 15 percent of voters bothered to vote in the primary.
Politico: Brown win could spark legal battle
A victory by Republican Scott Brown Tuesday in Massachusetts could quickly turn into a legal battle over the man he would replace – Sen. Paul Kirk – with the future of health reform in the Senate hanging in the balance.
NATIONAL
For the latest national news: www.CNN.com
New York Times: Review of Jet Bomb Plot Shows More Missed Clues
Worried about possible terrorist attacks over the Christmas holiday, President Obama met on Dec. 22 with top officials of the C.I.A., F.B.I. and Department of Homeland Security, who ticked off a list of possible plots against the United States and how their agencies were working to disrupt them.
CNN: Limit infants' use of Bisphenol-A products, FDA says
Parents should take precautions to minimize infants' exposure to the chemical Bisphenol-A, the Food and Drug Administration said Friday in an announcement that stopped short of saying there is a definite health risk from the chemical.
INTERNATIONAL
For the latest international news: http://edition.cnn.com
CNN: Search crews still finding survivors of Haiti quake
Survivors still emerged from collapsed buildings in Haiti's devastated capital Sunday, nearly five days after a 7.0-magnitude earthquake struck the impoverished island nation.
Full Coverage: http://www.cnn.com/SPECIALS/2010/haiti.quake/?hpt=T1
Washington Post: Officials try to prevent Haitian earthquake refugees from coming to U.S.
As a massive international relief effort lurches into gear, U.S. officials are stepping up measures to prevent last week's earthquake in Haiti from triggering a Caribbean migration not seen in two nearly two decades.
Wall Street Journal: Haiti Authorities Battle Looters
Thousands of looters played a deadly version of cat-and-mouse with police in the earthquake-shattered capital on Sunday, stripping stores of canned goods, wash basins and other wares along block after block of a downtown thoroughfare.
Bloomberg: NATO to Rebuff Russian Bid for Separate Treaty, Officials Say
NATO is likely to rebuff a Russian proposal for a bilateral security treaty, seeing it as a ploy to regain lost influence over eastern Europe, four allied officials said.
CNN: Explosions, gunfire hit downtown Kabul
At least two explosions and gunfire shook downtown Kabul on Monday morning, with the Taliban saying it was conducting a militant operation.
New York Times: Pakistan Says Drone Strike Kills 15
Missiles fired from American aircraft killed as many as 15 people in western Pakistan on Sunday, Pakistani security officials said, part of an increased campaign by the United States to use drones to kill militants.
Times of London: Pope gunman Mehmet Ali Agca released from prison in Turkey
Mehmet Ali Agca, the gunman who tried to kill pope John Paul II in 1981, has been released from prison in Turkey after almost three decades behind bars.
BUSINESS
For the latest business news: www.CNNMoney.com
Washington Post: Chinese Internet search firm Baidu looks forward to life after Google
Since Tuesday, when Google announced that it would stop censoring its search engine even if that meant losing its Chinese business license, Baidu's stock on the Nasdaq has surged 21 percent to a new high, adding $2.8 billion to the company's market value in just three days.
Bloomberg: Japan Air Said to Near Delta Deal, Dropping American
Japan Airlines Corp., facing possible bankruptcy this week, may drop partner American Airlines for an accord with Delta Air Lines Inc., according to two people familiar with the situation.
Wall Street Journal: J&J Is Accused Of Kickbacks To Omnicare On Drug Sales
In the latest case in the government's campaign against abusive drug-marketing practices, the Justice Department charged Johnson & Johnson with paying "tens of millions of dollars in kickbacks" to a nursing-home pharmacy company to boost sales of J&J drugs to nursing-home patients.
Wall Street Journal: Hershey Drafting Cadbury Bid
Hershey Co. plans to bid at least $17.9 billion next week for Cadbury PLC after concluding it has the financial muscle to top Kraft Foods Inc.'s $17.2 billion offer, said people familiar with the matter.
In Case You Missed It
CNN's Brian Todd rides along as a U.S. military helicopter delivers aid in Port-au-Prince.
The situation on the ground in Haiti is described by Lieutenant General P.K. Keen and USAID Administrator Rajiv Shah.
Subscribe to the CNN=Politics DAILY podcast at http://www.cnn.com/politicalpodcast
And now stay posted on the latest from the campaign trail by downloading the CNN=Politics SCREENSAVER at http://www.CNN.com/situationroom