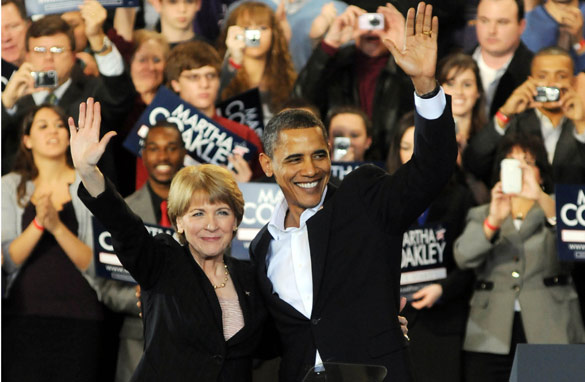 President Obama campaigned with fellow Democrat Martha Coakley in Boston Sunday. (Photo Credit: Getty Images)

Boston (CNN) – Republican Scott Brown's win a special election to replace the late Sen. Ted Kennedy is a blunt message to President Obama and Democrats, CNN Chief National Correspondent John King said Tuesday.
"Scott Brown campaigned against the Obama health care plan, against the Obama stimulus plan, against what he calls the spending and the taxing in Washington, D.C.," he said. "And voters in a state that Obama carried by 26 points have now, by a significant margin, decided to send Republican Scott Brown to Washington."
"Tonight, Massachusetts is not only sending a Republican to the Senate. Massachusetts is sending a very blunt message to President Obama and the national Democratic Party," King observed.