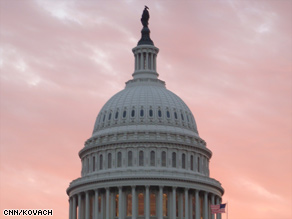 The CNN Washington Bureau's morning speed read of the top stories making news from around the country and the world.
WASHINGTON/POLITICAL
For the latest political news: www.CNNPolitics.com
Washington Post: FBI broke law for years in phone record searches
The FBI illegally collected more than 2,000 U.S. telephone call records between 2002 and 2006 by invoking terrorism emergencies that did not exist or simply persuading phone companies to provide records, according to internal bureau memos and interviews. FBI officials issued approvals after the fact to justify their actions.
Bloomberg: Treasury Delay on Bank Home-Equity Debt Imperils Housing Pickup
The U.S. Treasury Department has failed to win agreements to get struggling borrowers' home- equity debt reworked, among the biggest roadblocks to reducing foreclosures that may reach a record 3 million this year.
New York Post: GOP win in Mass. makes Ford Jr. run more likely: insiders
Many New York Democratic insiders are privately speculating that if the Democrats face a Martha Coakley loss – or near-loss – in Massachusetts to GOPer Scott Brown in tomorrow's senate election, it increases the odds of a Harold Ford Jr. candidacy.
Minnesota Star-Tribune: Coleman's exit is turning point for all parties
Within hours of Norm Coleman's exit from the 2010 gubernatorial race, the effect of his decision could be felt by candidates of all stripes. Lesser-known Republicans now have a clear shot at center stage, even though they lack the big bucks and cachet Coleman would have wielded. Democrats get to cross off a longtime nemesis, but could find DFL anger and national cash in shorter supply without one of their favorite foils.
SPECIAL COVERAGE OF THE MASSACHUSETTS SENATE CAMPAIGN
Boston Globe: All eyes on Bay State ballot
From Pittsfield to Framingham, North Andover to Dorchester, the candidates for US Senate made a last dash across the state yesterday, issuing their final pitches to voters ahead of a special election today that has drawn the eyes of the nation.
CNN: Health reform teeters as GOP seeks Massachusetts miracle
A couple of weeks ago, President Obama appeared to be on the brink of achieving the Democratic dream of comprehensive health care reform. Today that dream is at risk of being derailed in the most Democratic of states: Massachusetts.
Boston Herald: Ground forces mobilize
The high-flying campaigns of Republican Scott Brown and Democrat Martha Coakley have traded fire in the debates and over the airwaves – but now it's up to their ground troops to turn out the vote and deliver victory.