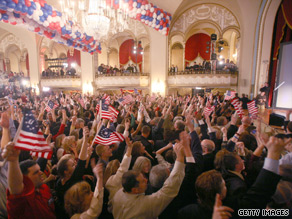 A surprise Republican victory in Massachusetts have left Democrats concerned.
Washington (CNN) - Look no further than the two warning flares shot up from Virginia and New Hampshire Tuesday evening to understand how concerned Democrats are about the political consequences of losing the late Sen. Edward Kennedy's seat to Republican Scott Brown.
Sen. Jim Webb, D-Virginia, called on his Democratic colleagues to suspend votes on their controversial health care legislation, warning it would be wrong to try to muscle a bill through Congress before Brown was sworn into office.
"In many ways, the campaign in Massachusetts became a referendum not only on health care reform but also on the openness and integrity of our government process," Webb said in a statement.
Some 500 miles to the north, New Hampshire Democratic Party Chairman Ray Buckley sent out an urgent plea for donations to help fund a special election next month for a state senate seat he fears losing.