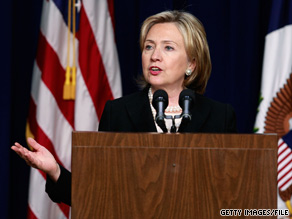 Clinton will address freedom of speech and the Internet Thursday
Washington (CNN) - The Internet and other technologies are critical to foreign policy, and those who engage in cyber attacks should face international condemnation, U.S. Secretary of State Hillary Clinton plans to say Thursday, her office said.
"In an interconnected world, an attack on one nation's networks can be an attack on all," Clinton will stress during a talk at The Newseum in Washington.
Her comments come as search-engine giant Google is threatening to shut down its operations in China, five years after agreeing to allow some censorship in exchange for the right to work in that country's massive emerging technology market.
Clinton has said that Google's allegations of censorship and online attacks by China raised "very serious concerns." The State Department has said it will file a formal protest over the complaints.
Also this month, foreign correspondents in at least two China bureaus of news organizations had their Google e-mail accounts attacked, with e-mails forwarded to a mysterious address, according to the Foreign Correspondents' Club of China.