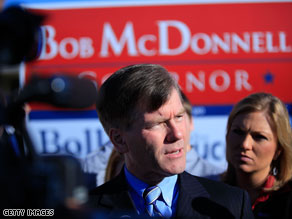 Republican Bob McDonnell captured the Virginia governor's mansion back from Democrats last November.
Washington (CNN) - Virginia Gov. Bob McDonnell will deliver the Republican response to President Obama's first State of the Union address next Wednesday.
McDonnell won the Virginia governorship last November, reversing nearly a decade of Democratic gains in the purple state. He was sworn in as governor of the commonwealth last weekend.
After his resounding victory over Democrat Creigh Deeds, Republican strategists pointed to McDonnell's path to victory - focusing on economic issues while remaining committed to conservative principles - as a blueprint for future GOP successes in the 2010 midterm elections.
In 2006, Democrats tapped then-Gov. Tim Kaine to deliver the response to President Bush's State of the Union speech for similar reasons; national officials saw Kaine's win in Virginia the previous year as a sign that Democrats were finding ways to win elections in traditionally-red states.

"Gov. McDonnell understands that the American people are more interested in shrinking unemployment than expanding government," Senate Minority Leader Mitch McConnell, R-Kentucky, said in a statement announcing the decision. "He is an impressive public servant and an excellent choice to offer Republican solutions for our country."
House Minority Leader John Boehner, R-Ohio, said McDonnell "has offered common-sense economic policies in stark contrast to Washington Democrats' job-killing agenda."
- CNN Political Producer Peter Hamby contributed to this report.