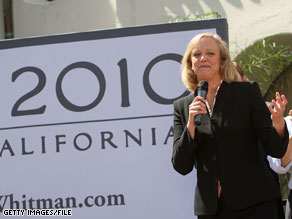 Meg Whitman loaned her gubernatorial campaign $20 million on Thursday.
(CNN) - The two Republican candidates for governor in California have coffers full of cash to battle for their party's nomination, and much of it has come from their own pockets.
Meg Whitman has contributed almost $40 million to her campaign so far. The former CEO of eBay announced Thursday that she has supplied her campaign with $20 million in new funding. In 2009, Whitman gave her campaign $19 million and raised $10.2 million from donors. She now has more than $30 million cash on hand to try to secure her party's nomination.
Whitman's infusion of money into her campaign's bank account bolsters her cash lead over her Republican rival, California's Insurance Commissioner Steve Poizner.
Poizner has $17.5 million cash on hand, most of which came from his own contributions – he has given his campaign more than $19 million since announcing his candidacy. The insurance commissioner has raised almost $2.5 million from outside contributions.