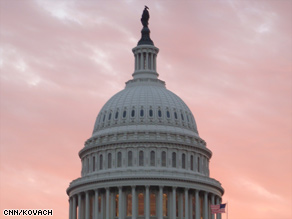 The CNN Washington Bureau's morning speed read of the top stories making news from around the country and the world.
WASHINGTON/POLITICAL
For the latest political news: www.CNNPolitics.com
CNN: Analysis: High court ruling a game-changer for campaign spending
Campaign 2010 is in full swing: Massachusetts elected its new U.S. senator this week, and the first congressional primaries are just days away.Now the first task for every federal candidate in this midterm election year will be to read the Supreme Court's ruling Thursday on campaign finance for a reality-check road map to their political future. The 183-page decision promises to completely change the way independent spending on elections is conducted.
The Hill: Schumer calls for hearings on SCOTUS decision
The Supreme Court's ruling striking down limits on corporate and union spending in elections is "un-American," Rep. Chris Van Hollen (D-Md.) said Thursday. Additionally, Sen. Chuck Schumer (D-N.Y.), a top Senate Democrat who formerly ran their campaign committee, said he would hold hearings on the decision in the coming weeks.
Denver post: Colorado GOP to sue to lift campaign money limits
Colorado Republicans will sue to overturn voter-approved state limits on some campaign contributions after a U.S. Supreme Court ruling Thursday that tossed out restrictions on corporate involvement in federal races.
Wall Street Journal: Fed's Bernanke Faces Tighter Vote in Senate
Ben Bernanke's confirmation for a second term as Federal Reserve chairman will go down to the wire and could be a closer vote than seemed likely just a few weeks ago.
CNN: Obama to focus hard on economy after Democratic loss
President Obama already was planning to put a heavy focus on jobs and the economy in next week's State of the Union address, but his top aides are signaling that pivot is going to be even sharper in the wake of the Democrats' stunning election defeat in Massachusetts.
Boston Globe: Liberal bastions lament as the blue fades
In the days since the unthinkable happened, diehard Democrats have been forced to confront results that suggest Massachusetts votes much the way rest of the country does – blue on the edges with a big red swath in the middle. They have grappled with the possibility that the Commonwealth, until this week viewed by the much of the country as an outpost of extreme liberalism, may not be all that. And that has left them blue – in the other meaning of the word – over Martha Coakley's defeat.
The Detroit News: Brown's ride drives buzz back to pickups
Scott Brown, the Republican state legislator who this week won the U.S. Senate seat of the late Ted Kennedy, got a lot of political mileage out of his 2005 GMC Canyon. The green Canyon, with nearly 200,000 miles on the odometer, co-starred with Brown on the Massachusetts campaign trail and in TV ads.
CNN: Pelosi: House won't support Senate health care bill, at least for now
The Senate health care bill has too many unpopular provisions to win approval from the House at this time, House Speaker Nancy Pelosi said Thursday. Pelosi's comment to reporters appeared to dash the chances that Democrats will take the easiest route for passing a health care bill: having the House approve the Senate version unchanged.
Washington Post: Justice task force recommends about 50 Guantanamo detainees be held indefinitely
A Justice Department-led task force has concluded that nearly 50 of the 196 detainees at the U.S. military prison at Guantanamo Bay, Cuba, should be held indefinitely without trial under the laws of war, according to Obama administration officials.
New York Times: Clinton Urges Global Response to Internet Attacks
Declaring that an attack on one nation's computer networks "can be an attack on all," Secretary of State Hillary Rodham Clinton issued a warning on Thursday that the United States would defend itself from cyberattacks, though she left unclear the means of response.
Anchorage Daily News: Murkowski tries anew to block EPA regulators
Sen. Lisa Murkowski took her battle with the Environmental Protection Agency to the floor of the Senate on Thursday, saying she was left with no choice but to fight a federal agency she believes is "contemplating regulations that will destroy jobs while millions of Americans are doing everything they can just to find one."
Dallas Morning News: Dallas-Fort Worth donors tilt toward Hutchison
In her bid to unseat Rick Perry, Kay Bailey Hutchison has built a financial beachhead in Dallas, taking in nearly 40 percent of her contributions from her hometown in the last half of 2009. All told, nearly half of Hutchison's money came from the Dallas-Fort Worth area.
Lincoln Journal Star: Bill would ban abortion past first trimester in Nebraska
A bill that would ban abortions in Nebraska during the second trimester or later would be the first law of its kind in the nation if passed by the Legislature, according to Sen. Mike Flood of Norfolk.
NATIONAL
For the latest national news: www.CNN.com
CNN: 300 evacuated in Los Angeles as rain continues
Rain pounded water-logged Los Angeles on Thursday, and Mayor Antonio Villaraigosa said more than 300 city residents were ordered to evacuate because of the threat of mudslides.
New York Times: Man Claims Terror Ties in Little Rock Shooting
A Tennessee man accused of killing a soldier outside a Little Rock, Ark., military recruiting station last year has asked a judge to change his plea to guilty, claiming for the first time that he is affiliated with a Yemen-based affiliate of Al Qaeda.
New York Times: Judge Orders New York to Correct Bias in Fire Department
A federal judge on Thursday ordered the City of New York to remedy years of discriminatory hiring in the Fire Department by giving hundreds of black and Latino applicants jobs, along with years of retroactive pay, and offering thousands of others some damages.
Concord Monitor: Borrowed money to pay jobless
New Hampshire will soon have to start borrowing money to pay its unemployment claims, the first time the state has had to seek help covering its checks to jobless workers.
Pittsburg Post Gazette: Review board asks G-20 police reports be handed over
The Pittsburgh Citizen Police Review Board is seeking a court order that would force Chief Nathan Harper to comply with a subpoena requesting documentation of the bureau's handling of the G-20 Summit. A hearing on the matter will be held before Senior Judge R. Stanton Wettick Jr. on Feb. 5.
INTERNATIONAL
For the latest international news: http://edition.cnn.com
CNN: U.S. prepares Guantanamo Bay for possible influx of Haitians
The U.S. military is gearing up for a possible influx of Haitians fleeing their earthquake-stricken country at an Army facility not widely known for its humanitarian missions: Guantanamo Bay.
CNN: To survive after quake, the desperate target Haiti's orphanages
Haiti's orphanages have become targets for people desperate for food, water and medical supplies in the aftermath of the devastating magnitude 7.0 earthquake.
Full Coverage: http://www.cnn.com/SPECIALS/2010/haiti.quake
BBC News: Pakistan 'wants unarmed drones'
The United States may provide Pakistan with a dozen unarmed drone aircraft to help strengthen its fight against the Taliban, US defence officials say.
Washington Post: U.S. ambassador puts brakes on plan to utilize Afghan militias against Taliban
The U.S. ambassador to Afghanistan and senior Afghan officials have resisted moving forward with a bold and potentially risky initiative to support local militias in Afghanistan that are willing to defend their villages against insurgents, according to U.S. officials.
New York Times: Barred Politicians Mostly Secular, Iraqi Says
The two biggest secular coalitions were hit hardest by this month's decision to bar about 500 candidates from parliamentary elections in March, a top election official said Thursday, as efforts to resolve what has become a political crisis intensified.
Daily Telegraph: More than 50 EU embassies open across the world
More than 50 European Union embassies have opened across the world since the Lisbon Treaty came into force three weeks ago.
The Guardian: UK considers Obama-style banking revolution
US officials will fly to London next week to discuss with ministers how sweeping changes to the banking system outlined by President Barack Obama to fight Wall Street's excesses might be implemented in the City.
Times of London: Gordon Brown to appear at Iraq inquiry before next election
Gordon Brown will appear in front of the Iraq inquiry before the general election, Downing Street sources confirmed last night.
BUSINESS
For the latest business news: www.CNNMoney.com
CNNMoney: Wall Street's worst day in months
Stocks tumbled Thursday after the Obama administration announced a proposal to increase regulation of the nation's biggest financial firms, including limiting the size and scope of their trading operations.
CNNMoney: Toyota recall: 2.3 million cars
Toyota Motor Sales USA is recalling 2.3 million vehicles to correct a problem that could cause the vehicles' gas pedals to stick. This new recall is separate from an on-going recall of 4.2 million Toyota and Lexus vehicles to correct a problem in which the pedals could become stuck under a loose floormat.
Bloomberg: NBC Said to Tell Comcast of Leno Troubles Before Deal
NBC told Comcast Corp. in November that Jay Leno's ratings had hurt local stations, one of the factors that weighed on the value of the entertainment company, according to people with knowledge of the situation.
CNNMoney: Volcker whacks Goldman Sachs
A proposed trading crackdown backed by former Federal Reserve chief Paul Volcker overshadowed Goldman Sachs' biggest-ever profit Thursday.
In Case You Missed It
A U.S. Navy hospital ship is quickly filling up with patients off the coast of Haiti. CNN's Chris Lawrence reports.
CNN's Paul Steinhauser reports on Massachusetts Senator-elect Scott Brown's first day on Capitol Hill.
Subscribe to the CNN=Politics DAILY podcast at http://www.cnn.com/politicalpodcast
And now stay posted on the latest from the campaign trail by downloading the CNN=Politics SCREENSAVER at http://www.CNN.com/situationroom