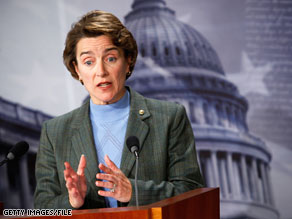 Sen. Blanche Lincoln released new fundraising numbers Tuesday.
(CNN) - Sen. Blanche Lincoln set the Twittersphere abuzz Monday night when the Arkansas Democrat's campaign tweeted she would make an "important campaign announcement" Tuesday morning.
Several political observers took the short message as a sign that the two-term senator may be announcing her retirement instead of engaging in what is likely to be a hardly-fought re-election bid. Her campaign quickly sought to tamp down those rumors, and word leaked that she was really releasing her 2009 fundraising totals.
So how are her political finances? Well, Lincoln raised $1.3 million in the fourth quarter and has $5 million cash on hand heading into the 2010 elections.
A recent Mason-Dixon poll of Arkansas voters suggests that Lincoln is in a dead heat or slightly trailing all of her possible GOP opponents in hypothetical general election match ups.
The survey also indicates 39 percent of Arkansas voters have a favorable opinion of her, with 41 percent holding an unfavorable opinion.