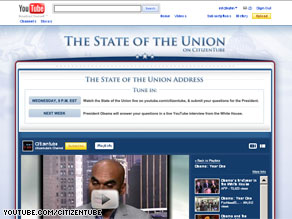 Citizens can submit questions on YouTube that President Obama might answer.
Washington (CNN) - While the Constitution mandates the president deliver a State of the Union it does not mandate whether or not it should be delivered on the radio, television or YouTube.
The State of the Union was delivered first on the radio in 1923 by Calvin Coolidge and Harry Truman came into living rooms live via the television to deliver his address in 1947. And now Barack Obama will make State of the Union history by streaming it live on the new White House iPhone app and encouraging citizens to ask the president questions on YouTube.
YouTube and the White House announced Tuesday morning that it will open up a forum on YouTube.com/CitizenTube during Obama's address for people to submit questions to the president. Questions will also be voted on to determine what the public wants Obama to answer.
Then a week later, Obama will answer questions in a special online event.