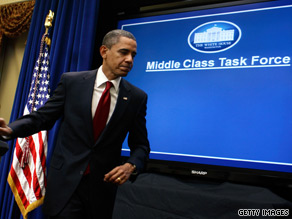 It's down to the wire for President Obama.
(CNN) - It's down to the wire for President Obama.
White House aides say he's still writing what could arguably be the most important speech of his young presidency. Tuesday, Mr. Obama is working with lead speechwriter Jon Favreau and foreign policy speechwriter Ben Rhodes to craft his critical State of the Union Address.
White House spokesman Bill Burton says they've lost count of the multiple drafts which have gone into editing the address, but the tinkering continues. The White House writing team began crafting the speech back in November. The president became involved the following month, but now Mr. Obama is pouring through the pages with a fine tooth comb."There has been a lot of hard work on it in past couple of days," Burton said.
The president is writing part of it in long hand, as he did for his Nobel Peace Prize address, but most has been done on computer, aides say. As changes are still being made, Mr. Obama has not yet started practicing his delivery in the White House theater.
The president's proposal to freeze non-security discretionary spending for three years will be announced during his State of the Union. Burton says that initiative to reign in federal spending was written in the address before the Massachusetts special election that cost Democrats their 60-seat supermajority.
White House officials say the president will emphasize the importance of "creating good jobs, addressing the deficit, changing Washington, and fighting for middle class families." Burton says Mr. Obama will also talk about the need for health care reform, his top domestic priority, that got railroaded after the partys' Massachusetts loss.