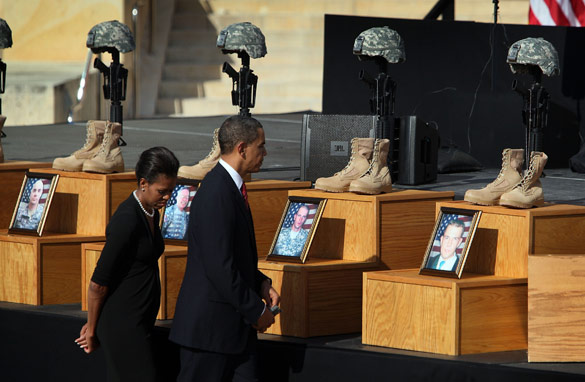 The White House has announced that two police officers who responded to the shooting at Ft. Hood will join the first lady at the president's State of the Union address Wednesday night. (Photo Credit: Getty Images/File)
Washington (CNN) - Two heroes from last year's shooting at Ft. Hood will be among the guests for Wednesday night's State of the Union address. A White House official confirms that Sgt. Kimberly Munley and Sgt. Mark Todd will be seated with first lady Michelle Obama for the speech in the gallery above the House Floor.
The two officers responded to the November 5 shooting in a processing center at Ft. Hood where Army psychiatrist Maj. Nidal Malik Hasan went on a rampage killing 13 people and injuring dozens of others. Sgt. Munley, a civilian police offier, is credited with stopping the shooting spree by exchanging fire with the suspect and disabling him. She was injured in the shooting. Hasan was paralyzed from the waist down in the gunfight and now faces 13 charges of premeditated murder and 32 counts of attempted premeditated murder.