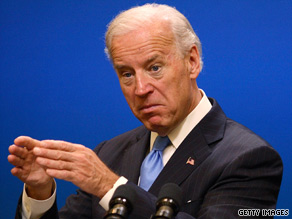 'The reports of our demise are premature,' Vice President Biden told Democratic insiders Tuesday.
Washington (CNN) – Vice President Joe Biden told Democratic insiders Tuesday that the loss of the late Sen. Edward Kennedy's seat last week stung but was not a fatal political blow. Biden also downplayed the notion that President Obama ever had a reliable 60 vote super majority in the Senate.
"The reports of our demise are premature," Biden said at a Democratic National Committee meeting, according to the pool report. "It's time everybody take a deep breath. Take a deep breath. Let's put this in perspective. Yeah, we took a hit and the frustration was aggravated by the fact that Teddy's seat was lost.
"That makes it sound more profound than it is. Yes it's had a practical impact, but I'm not so sure what a blessing 60 votes was. When we had 60 votes there was the expectation left, right, and center that we could do everything we wanted to do, which was never realistic. Never."

Biden's appearance before the DNC's National Finance Committee/National Advisory Board meeting in Washington came one day after his son, Beau, announced he would not seek his father's former Senate seat. The elder Biden held that seat from 1973 until he resigned to be vice president.
Biden also sought to shift some of the responsibility of governing to Republicans, who now have 41 votes in the Senate – enough to launch a filibuster – thanks to Scott Brown's upset win in Massachusetts.
"[T]hey are going to have to be accountable as well," Biden said.
And despite the recent spate of bad news for Democrats ranging from Brown's victory, the uncertainty of health care reform, Beau Biden's decision to forgo a Senate run, and retirements in the House, Biden vowed that the Obama administration will continue to push forward with its agenda.
"We're not backing off a single thing we believe in," Biden said.