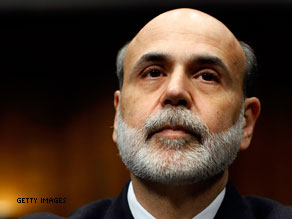 Big vote on Bernanke confirmation is set .
Washington (CNNMoney.com) - The confirmation drama surrounding Ben Bernanke is coming to a showdown.
The Senate has scheduled a vote on Thursday to clear hurdles that stand between the Federal Reserve chairman and a second term.
The procedural move requires 60 votes and will depend on Republicans, because several Democrats have said they will vote no. The vote could effectively clear Bernanke for confirmation, although a second vote requiring only 51 votes would be taken later in the week.
Bernanke's term ends on Sunday.

The mere fact that Senate Majority Leader Harry Reid, D-Nev., has scheduled a cloture vote means that he believes he has secured 60 votes for Bernanke after heavy lobbying by Democratic leaders and the Obama administration.
"During the darkest days, this man and his leadership stepped in," Sen. Dick Durbin, D-Ill., said this week after meeting with Bernanke, who acknowledged to senators that he had made some mistakes. "He stepped in and made some decisions that saved us. We have to acknowledge the fact that we have made progress."
Although President Obama announced five months ago that he wanted to re-appoint Bernanke to a second term, the Senate has dawdled on the confirmation vote until the last minute.
Voter frustration has been growing against Washington. Lawmakers are accused of doing a better job getting Wall Street back on its feet than Main Street. And Bernanke is largely seen as a symbol of Wall Street, even though many credit him for saving the economy from falling into a second Great Depression.
Democratic leaders and White House officials have expressed cautious optimism they have the votes they need, as part of a deal negotiated on separate legislation that would raise the debt ceiling.
If Bernanke is not re-appointed by Sunday, he would retain his position on the Fed's Board of Governors. He would also likely be elected by his colleagues on the board to continue running the Federal Open Market Committee, which controls monetary policy and meets today
However, a question remains about who would run the Fed. It would be either Bernanke, in an acting capacity, or Vice Chairman Donald Kohn.