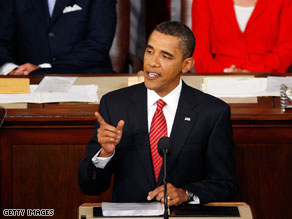 CNN Poll: Majority want new direction from Obama speech.
Washington (CNN) - Most Americans want President Barack Obama to use Wednesday night's State of the Union address to move his administration in a new direction, according to a new poll.
Seven out of 10 people questioned in a CNN/Opinion Research Corporation national survey say they would like to see the president put forward proposals that would move his administration in a new direction this year, with 28 percent saying they'd like to hear Obama address the same goals and priorities he had in his first year in office.
The poll indicates that 63 percent of the public think Obama's first State of the Union address will be excellent or good, but that's down from the 72 percent who felt the same way about the president's first speech to a joint session of Congress last February.
"The country remains split over Obama's track record in office - 49 percent say his policies would move the country in the right direction and 49 percent say they would move the U.S. in the wrong direction," says CNN Polling Director Keating Holland.
Full coverage: President Obama's State of the Union address

A majority, 53 percent say its not likely that the president's prime time speech will make them feel more confident about the economy, with 45 percent saying it's likely Obama's speech will make the feel more positive.
But there appears to be no denying that Obama is a gifted speaker.
"Nine in ten describe Barack Obama as a good speaker and communicator," adds Holland. "That's slightly higher than the number who described President Ronald Reagan that way in 1984, and Reagan was nicknamed 'The Great Communicator'."
The CNN/Opinion Research Corporation poll was conducted January 22-24, with 1,009 adult Americans questioned by telephone. The survey's overall sampling error is plus or minus 3 percentage points.
–CNN Deputy Political Director Paul Steinhauser contributed to this report.