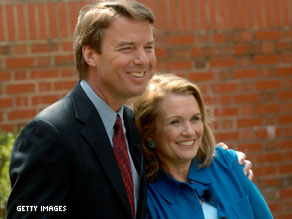 Ex-VP nominee splits from spouse.
Washington (CNN) – The 2004 Democratic vice presidential nominee, John Edwards, is legally separated from his wife, a source close to the family tells CNN.
Edwards, a former North Carolina senator who unsuccessfully sought his party's presidential nomination in 2004 and 2008, just last week acknowledged being the father of a baby born to his mistress Rielle Hunter. Edwards previously admitted to the affair, but denied paternity.
The source, who would not speak on the record because of the sensitivity of the situation, had spoken to Elizabeth Edwards in recent days.
News of the separation comes a week before a tell-all book by Andrew Young, a one-time close confidante of John Edwards, is set to hit bookstores.
People Magazine, a CNN sister organization, first reported the story. Elizabeth Edwards' sister, Nancy Anania, told People magazine in an article dated Wednesday that Elizabeth told her, "I've had it. I can't do this. I want my life back."
The sister told the magazine, "She's got cancer and has young children and totally believes in marriage ... but she can only do so much."

Update, 6:28 p.m., John Edwards has issued the following statement:
"It is an extraordinarily sad moment, but I love my children more than anything and still care deeply about Elizabeth."

Update:The following statement was released by Elizabeth Edwards's publisher Random House
"Elizabeth is moving on with her life and wants to put this difficult chapter behind her. It was an excrutiatingly (sic) painful period for her and she no interest in rehashing the past. Based on the limited portions of the book that have been made available, it is clear it contains many falsehoods and exaggerations. She will not engage in a dialogue on each of the false charges, but would like to set the record straight on two key points. First, the allegation that she sought to politicize her cancer is unconscionable, hurtful and patently false. Second, she believed Andrew Young to be the father of this child until her husband confessed his parternity (sic) to her this past summer. She will have nothing further to say."