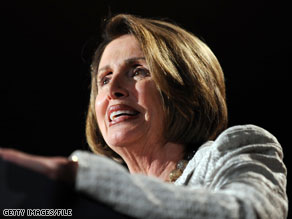 House Democrats consider bite size health care votes.
Washington (CNN) – In an effort to try and revive the sweeping health care legislation, Democratic leaders are considering holding a series of votes on some of the most popular and populist aspects of their bill.
Multiple Democratic sources tell CNN the goal would be to more narrowly focus their message on health care by offering separate votes on parts of the original bill that they believe voters care about most. Some examples: empower the Secretary of Health and Human Services to force a decrease in drug prices and repeal the anti-trust exemption for insurance companies.
These sources said House Democrats realize the Senate may not follow suit, and the smaller bills may not have a chance at becoming law. But the idea of several votes reflects a desire in the short term to try and keep up momentum on health care.

Meanwhile, work continues behind the scenes to salvage the broad health care bill.
Democratic leaders continue to work towards a strategy for the House to pass the Senate's health care legislation, but only alongside a separate package of compromise changes.
Since Democrats would no longer have 60 votes to overcome a filibuster, that package would have to be pushed through the Senate through a process known as "reconciliation," which requires 51 votes – a simple majority.
Though some moderate Democrats rejected using "reconciliation," Sen. Ben Nelson, D-Nebraska, said Wednesday he would be open to the idea.