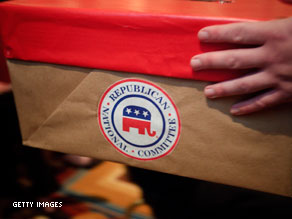 Republican state party chairmen decided Wednesday to oppose the 'purity resolution'.
Honolulu, Hawaii (CNN) - A key voting bloc within the Republican National Committee on Wednesday rejected the so-called "purity resolution" that would forbid party money from going to moderate GOP candidates.
In a private meeting, the RNC's state chairman's committee voted unanimously to oppose the resolution, which would force GOP candidates to ascribe at least eight of 10 conservative principles, or else be cut off from RNC financial support. It was submitted this week by 10 committee members.
The measure has drawn criticism from Republicans who want to broaden the party's appeal.
The purity resolution is not officially dead. It will still go to the resolutions committee tomorrow, which will decide whether to bring it to a full committee vote Friday at the RNC general session.
But the formal rebuke of the resolution by the state party chairs - a full third of the RNC - does not bode well for its survival.
"State party chairs have the responsibility of working to support the candidates our members nominate in the primaries," said California GOP chairman Ron Nehring, one of the party chairs in the meeting. "Our goal is to support the entire Republican ticket, from our candidates for Congress and governor's offices, all the way down to school boards and fire boards. Our party will back the candidates who win the Republican Party's nomination."

A second, less-stringent proposal has also been submitted for consideration at the GOP's annual meeting, which began Wednesday at a beachfront resort in Honolulu.
The "accountability resolution," as its called, would allow RNC Chairman Michael Steele to "take into account the conservative bon fides of a candidate" before deciding whether to offer party support, said Jim Bopp, Jr., the Indiana committeeman and chief sponsor of both resolutions. Unlike the "purity" resolution, it does not include a strict ten-plank platform for candidates to abide by.
The newer measure would also require any Republican who switches parties or endorses a Democrat to return any money provided to them by the RNC.