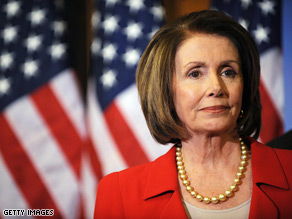 Pelosi promises health care reform win.
Washington (CNN) - House Speaker Nancy Pelosi insisted Wednesday that Congress will pass a health care reform bill, despite recent setbacks that have raised new questions about the changing political climate.
Democratic hopes to get a bill to President Barack Obama's desk before his upcoming State of the Union speech were derailed by the GOP's upset win in last week's special election to fill Ted Kennedy's Massachusetts Senate seat.
The win stripped Democrats of their 60-vote Senate supermajority and gave Republicans enough votes to block most legislation in the chamber. Democrats, who were in the process of combining previously passed House and Senate bills at the time of election, have been struggling since to come up with a new legislative strategy.
"I don't see (failure) as a possibility," Pelosi told reporters on Capitol Hill when asked about the possibility of not enacting health care reform. "We will have something."

The current health care system "is unsustainable," she added. "We will make progress. Whatever it is - one way or another - we will go forward."
Democratic leaders are now working on a plan for the House to pass the Senate bill, along with a separate package of changes in the Senate plan that reflect compromise between the two chambers.
Some conservative Democrats have been pushing House to approve the current Senate bill unchanged. Doing so would prevent the newly-reconstituted Senate from having to take up the measure again.
Last week, however, Pelosi asserted that the Senate bill has too many unpopular provisions to win approval from the House if it is not accompanied by a package of changes.
Pelosi said the Senate bill has "certain things that (House) members just cannot support." She cited a provision worked in by Nebraska Sen. Ben Nelson that exempts his state from paying increased Medicaid expenses, and a 40 percent excise tax on insurance companies that provide the most expensive health insurance coverage.
In the Senate, meanwhile, some liberal Democrats have urged Senate Majority Leader Harry Reid to use a legislative tool known as reconciliation, which would allow certain components of the health care bill to pass with only 51 votes.
Some Democratic sources warn, however, that using reconciliation is complicated and fraught with legislative hurdles, raising questions about whether it could happen even if enough congressional Democrats supported the move.
Other Democrats in tough re-election fights worry voters will see such a move as legislative gimmickry, reinforcing complaints that Democratic control of Washington has been business as usual.
On Tuesday, two moderate Democratic senators facing re-election battles this year - Indiana Sen. Evan Bayh and Arkansas Sen. Blanche Lincoln - said they would oppose the use of reconciliation in the health care debate.
Bayh called the move "ill-advised." Lincoln released a statement saying she will "not accept any last-minute efforts to force changes ... through budget reconciliation, and neither will Arkansans."
Speaking at a town hall meeting in Ohio last Friday, Obama admitted the health care reform effort had run into a political "buzz saw."
"The long process of getting things done runs headlong into the special interests, their armies of lobbyists, and partisan politics aimed at exploiting fears instead of getting things done," he said.
But, he promised, "I'm going to keep up the fight for real, meaningful health insurance reforms."
Obama, who made health care his top domestic priority last year, will address the issue in his State of the Union address, White House Press Secretary Robert Gibbs said Tuesday.
–CNN's Dana Bash, Alan Silverleib and Deirdre Walsh contributed to this report