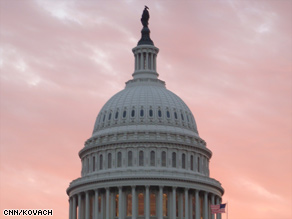 The CNN Washington Bureau's morning speed read of the top stories making news from around the country and the world.
WASHINGTON/POLITICAL
For the latest political news: www.CNNPolitics.com
CNN: Administration: Obama to boost education funding by $4 billion
Despite a heavy focus on fiscal discipline in his first State of the Union address, President Barack Obama will announce an increase of up to $4 billion in federal education spending, according to senior administration officials familiar with the speech.
CNN: Obama's spending freeze: Prudence or posturing?
President Obama's proposed spending freeze could help him recapture the favor of centrist voters, but critics blast the move as nothing more than political posturing.
Boston Globe: Mass. in mind for State of Union
President Obama is expected to deliver a State of the Union speech tonight with a simple but politically crucial acknowledgment: Massachusetts, I heard you.
New York Times: President Plans Own Panel on Nation's Debt
Advocates of more aggressive steps to address the national debt failed Tuesday in their effort to create a bipartisan commission to press for tax increases and spending cuts, but President Obama now plans to establish a similar panel by executive order in his State of the Union address on Wednesday.
CNNMoney: Stimulus is now $75 billion more expensive
The Congressional Budget Office hiked its forecast Tuesday for how much the stimulus bill will add to the nation's deficit, raising its estimate by $75 billion to $862 billion.
CNN: CNN Poll: Majority says stimulus has not helped middle class
The U.S. government is using Commando Solo to deliver news and information to the survivors of the January 12 earthquake. During much of the day, the plane relays live broadcasts of Voice of America news call-in shows in Creole, the native tongue of Haiti.
Bloomberg: Stunned Wall Street Firms Don't Want to Wage War on Obama
When Treasury Secretary Timothy F. Geithner and White House adviser Valerie Jarrett hosted a private dinner with the leaders of six banks to discuss financial regulation on Jan. 20, the bankers soon changed the subject. The president needed to stop demonizing Wall Street, they told Jarrett, according to three people familiar with the meeting. What the executives… didn't know was that President Barack Obama, who had proposed a new tax on the biggest banks six days earlier, was about to strike again.
Washington Post: U.S. military teams, intelligence deeply involved in aiding Yemen on strikes
U.S. military teams and intelligence agencies are deeply involved in secret joint operations with Yemeni troops who in the past six weeks have killed scores of people, among them six of 15 top leaders of a regional al-Qaeda affiliate, according to senior administration officials.
Christian Science Monitor: Can the US exploit divide between Taliban and Al Qaeda?
New details have emerged about the tense relationship between Osama bin Laden, the leader of Al Qaeda, and Mullah Omar, the head of the Taliban, in the days before 9/11. In Afghanistan, the US aims to exploit that divide.
CNN: Senate will vote Thursday on Bernanke confirmation
The Senate will vote Thursday on whether to give Ben Bernanke a second term as Federal Reserve chairman, according to Senate Majority Leader Harry Reid's spokesman. … Democratic leaders and White House officials say they expect to muster the 60 votes necessary to overcome opposition to confirming Bernanke for a second term.
CNN: 4 charged in U.S. Senate office infiltration in New Orleans
A conservative activist who made undercover videos of the liberal community-organizing group ACORN was one of four men charged Tuesday with attempting to illegally access and manipulate the phone system in a district office of U.S. Sen. Mary Landrieu of Louisiana.
CNN: Napolitano sees chance to set global standards in airline security
Homeland Security Secretary Janet Napolitano said Tuesday there is a "renewed sense of urgency in the international community" about terrorism after the Christmas Day bombing attempt aboard a U.S.-bound plane, and the U.S. should now push for global security standards for international airports and aircraft.
New York Times: Specter Feels Squeeze From New Friends and Old
It seems either a cruel or fitting twist. Senator Arlen Specter left the Republican Party last year and became a Democrat to save his political career. Now, at 79, he suddenly finds that the party he switched into may not provide a safe haven.
St. Petersburg Times: Crist now says he might join Obama in Tampa
Gov. Charlie Crist, who has been taking a steady pounding for his "man hug" with President Barack Obama in February, now says he might be with the president again Thursday in Tampa.
NATIONAL
For the latest national news: www.CNN.com
CNN: New rule for truck, bus drivers: No texting
Drivers of commercial trucks and buses are prohibited from texting under federal guidelines that U.S. Transportation Secretary Ray LaHood announced Tuesday.
USA Today: Recession may be behind rising ranks of volunteers
More Americans, especially women, are giving their time and energy to good causes, a new government report says. From September 2008 to September 2009, 63.4 million Americans, 26.8% of the population, volunteered with organizations, according to the Bureau of Labor Statistics.
Los Angeles Times: L.A. City Council finally passes medical marijuana ordinance
The Los Angeles City Council, without debate, gave final approval Tuesday to a medical marijuana ordinance that will impose some of the toughest rules in the state but was assailed by advocates who said the law will drastically restrict access to the drug.
INTERNATIONAL
For the latest international news: http://edition.cnn.com
CNN: Flying radio station broadcasts help to Haiti
The U.S. government is using Commando Solo to deliver news and information to the survivors of the January 12 earthquake. During much of the day, the plane relays live broadcasts of Voice of America news call-in shows in Creole, the native tongue of Haiti.
Full Coverage: http://www.cnn.com/SPECIALS/2010/haiti.quake
Miami Herald: Immigration issues tests Haiti-Dominican relations
The Dominican Republic has been quick to come to the aid of its stricken neighbor, but the disaster has raised fears of a mass migration.
Der Speigel: NATO Envisions Many More Years in Afghanistan
Heads of NATO member states are fond of talking about when the alliance might begin to withdraw from Afghanistan. But a draft communiqué ahead of the conference in London makes it clear: NATO will stay in the war-torn country for years to come. It may also start paying Taliban fighters to lay down their arms.
Washington Post: Russia won't block removal of former Taliban members from U.N. terrorism list
A U.N. Security Council committee announced Tuesday that it has lifted sanctions against five former Taliban officials, bolstering Afghan and U.N. efforts to pursue peace talks with the group, Security Council diplomats said. The decision came after Russia agreed to stop blocking a U.S.-backed proposal to delist the men.
New York Times: The Afghan Leader's Hat, Always More Than Just Headgear, Is Losing Its Cachet
Hamid Karzai's hat, while still firmly on the Afghan president's head whenever he appears in public, is no longer quite the symbol it once was….When Mr. Karzai, a Pashtun from the turban-wearing south, took office in 2002, the karakul hat was part of his attempt to devise a wardrobe that was Afghan rather than ethnic or regional.
New York Times: Latest Bombings Add New Layer of Anxiety and Suspicion in Baghdad
For a second day, Baghdad was hit by a bombing, this time at a forensics office of the Interior Ministry. Officials put the toll at 17 dead, although no one really knows how many died. The attack followed a devastating series of bombings on Monday that wrecked landmark hotels catering to foreigners, killing dozens and demonstrating the tenacity of insurgents in striking when and where they have wanted for the past six months.
Bloomberg: Chavez Currency 'Burn' Failing as $93 Billion Leave
Venezuelan President Hugo Chavez is selling dollars from central bank reserves for the first time in six years in what Goldman Sachs Group Inc. and Barclays Plc say is a futile bid to shore up the bolivar in unregulated trading.
BBC News: Sri Lanka president wins re-election – state TV
President Mahinda Rajapaksa has won Sri Lanka's first election since Tamil Tiger rebels were defeated after 25 years of civil war, state TV reports.
Daily Telegraph: Government knew 'no leg to stand on' legally to go to war in Iraq
During evidence to the Chilcot Inquiry into the war against Saddam, it emerged that Foreign Office lawyers were "unanimous" in their view that going to war without a United Nations mandate would be a "crime of aggression" likely to damage Britain's standing in the world.
CNN: France moves toward partial burqa ban
French lawmakers Tuesday recommended a partial ban on any veils that cover the face - including the burqa, the full-body covering worn by some Muslim women.
BUSINESS
For the latest business news: www.CNNMoney.com
CNNMoney: Toyota suspends sales after recall of 2.3 million vehicles
Toyota Motor Sales USA Inc. said Tuesday it is asking dealers to temporarily suspend sales of eight models. The company's sales suspension is part of a recall announced last week to correct a problem that could cause the accelerator pedal to stick.
Bloomberg: Yen Climbs to 9-Month High Versus Euro as Global Recovery Slows
The yen rose to a nine-month high against the euro and strengthened versus the dollar as speculation the global economic recovery is slowing spurred demand for Japan's currency as a refuge.
Wall Street Journal: Emails Show Fed's AIG Angst
So far, the material that has surfaced hasn't revealed "smoking gun" details suggesting officials were primarily aiming to benefit big banks at the expense of taxpayers' 80% stake in AIG. Rather, the emails paint a picture of confusion, uncertainty and fatigue among a small army of Fed staffers, lawyers and bankers, as each tried to grapple with the unprecedented task before them: propping up a nearly failed global insurer that had been rescued by the government.
Wall Street Journal: Apple Portends Rewrite for Publishers
Book publishers were locked in 11th-hour negotiations with Apple Inc. that could rewrite the industry's revenue model after the technology giant unveils its highly anticipated tablet device Wednesday.
Silicon Valley Mercury News: Apple tablet buzz reaches crescendo
The months of buzz leading up to today's widely anticipated announcement of Apple's multimedia tablet rivals that for any previous product announcements by Apple. Yet no one outside of Apple's inner circle knows for sure what the Cupertino company will unveil at the Yerba Buena Center for the Arts in San Francisco.
In Case You Missed It
CNN's Christiane Amanpour looks at Haiti's garment factory industry.
CNN's Kate Bolduan gets exclusive access to Earl Devaney, the man tasked with tracking stimulus spending.
Subscribe to the CNN=Politics DAILY podcast at http://www.cnn.com/politicalpodcast
And now stay posted on the latest from the campaign trail by downloading the CNN=Politics SCREENSAVER at http://www.CNN.com/situationroom