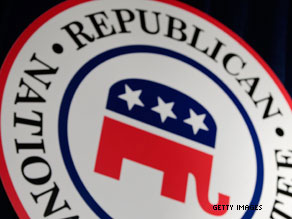 Two 'purity' resolutions submitted at RNC meeting.
Honolulu, Hawaii (CNN) - Conservative members of the Republican National Committee have submitted two different proposals at their Winter Meeting this week that would prevent party money from being given to GOP candidates who are deemed too moderate.
One of the measures – the so-called "purity resolution" that was first circulated in November and drew criticism from Republicans who want to broaden the party's appeal – would deny RNC support to candidates who fail to adhere to at least eight of 10 conservative principles.
A second, less-stringent proposal has also been submitted for consideration at the meeting, which began Wednesday at a beachfront resort in Honolulu.
The "accountability resolution," as its called, would allow RNC Chairman Michael Steele to "take into account the conservative bon fides of a candidate" before deciding whether to offer party support, said Jim Bopp, Jr., the Indiana committeeman and chief sponsor of both resolutions. Unlike the "purity" resolution, it does not include a strict ten-plank platform for candidates to abide by.
The newer measure would also require any Republican who switches parties or endorses a Democrat to return any money provided to them by the RNC.

The accountability resolution - without the stricter language and the demand on Steele to relinquish some measure of authority over party money - could be more palatable to the nearly 168 RNC members who will vote Friday on the language.
"The chairman thinks that he has to support all Republicans regardless of their views, and so we want to change that one way or another," Bopp told CNN. "We just want to come up with as many options as possible to accomplish our goal."
Bopp, one of 10 co-signers to each of the resolutions, said he is confident that one or both of the proposals will pass during Friday's general session.
"I think the situation is really fluid and a lot of people are taking about the need for accountability, and I am open to whatever will get the job done," Bopp said.
After a day of strategy meetings, RNC members will gather Wednesday to watch President Obama's first State of the Union address.
UPDATE: The purity resolution was dealt a serious blow on Wednesday when state party chairs voted to oppose the measure.