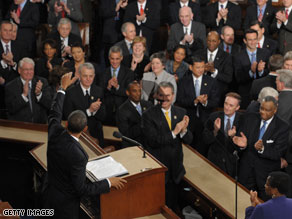 President Obama called for a repeal of 'Don't Ask, Don't Tell' in his State of the Union address Wednesday night.
Washington (CNN) - President Obama's call in his State of the Union address to repeal the military's "don't ask, don't tell" policy this year was met with praise from gay activists and questions by top Republicans as to why it should be changed.
"Tonight, President Obama stepped up to the plate and made a firm commitment to work to finally end 'don't ask, don't tell' in 2010," said Alexander Nicholson, founder and executive director of Servicemembers United. "Although brief, his language was plain, his message was clear, and the outline of his strategy was smart."
In his State of the Union speech, Obama said he would work with Congress and the military to repeal the 1993 law that bars openly gay and lesbian people from serving in the military.
"[We must] repeal the law that denies gay and lesbian Americans the right to serve the country they love because of who they are. It's the right thing to do," Obama said.
Nicholson, a former Army human intelligence collector who was honorably discharged in 2002 under the policy, said Obama did something Wednesday night that will cool criticism he has faced from the gay rights community.
"He didn't pass the buck ... he seemed to take the bull by the horns and fully commit," said Nicholson. "I thought it was pretty clear that he intends to do it this year and take a leadership role."
Follow Ed Hornick on Twitter: @HornickCNN