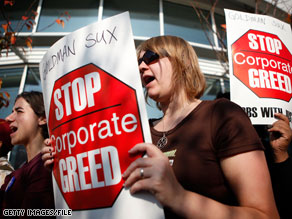 Protestors at a rally in November.
NEW YORK (CNNMoney.com) - In his State of the Union speech Wednesday night, President Obama touted a slew of federal initiatives aimed at stimulating small business hiring and growth. Again.
Small companies employ around half of America's workers and drive most of the country's job growth. Obama talks frequently in his speeches about the vital role small companies play, and his administration has launched several efforts to bolster struggling Main Street businesses. But most of the president's small business proposals remain in limbo, caught in bureaucratic logjams and the Great Black Hole of Congress.
A year ago, Obama set the stage during his first major economic speech to Congress. "I will not spend a single penny for the purpose of rewarding a single Wall Street executive, but I will do whatever it takes to help the small business that can't pay its workers or the family that has saved and still can't get a mortgage," Obama said in February. "That's what this is about. It's not about helping banks; it's about helping people."
But small business owners across the nation say they feel left out of the stimulus and recovery action.