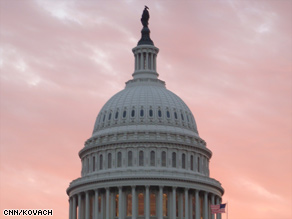 The CNN Washington Bureau's morning speed read of the top stories making news from around the country and the world.
WASHINGTON/POLITICAL
For the latest political news: www.CNNPolitics.com
CNN: After pleading his case, where does Obama go now?
President Obama acknowledged Wednesday night that he's faced political setbacks during his first year in office. Obama's first State of the Union speech was the pivot his critics believe he should have made months ago. Health care is now on the back burner, and the pain of a lingering economic recession is front and center.
CNN: Gloves come off after Obama rips Supreme Court ruling
The political furor escalated over President Obama's high-profile rebuke of a recent Supreme Court ruling on campaign advertising Thursday, as Democrats pounded the high court decision. Democrats rallied around Obama the day after the president committed a rare breach of political etiquette, criticizing the controversial ruling in his State of the Union address as members of the high court sat only a few feet away.
New York Daily News: White House asks Justice Department to look for other places to hold 9/11 terror trial
The White House ordered the Justice Department Thursday night to consider other places to try the 9/11 terror suspects after a wave of opposition to holding the trial in lower Manhattan. The dramatic turnabout came hours after Mayor Bloomberg said he would "prefer that they did it elsewhere" and then spoke to Attorney General Eric Holder.
CNN: Senate OKs sanctions on Iran
The Senate passed a bill on Thursday that would allow President Obama to expand sanctions against Iran to pressure the Islamic republic to drop its nuclear weapons ambitions.
CNN: Pentagon plan on 'don't ask, don't tell' ready for Congress
Defense Secretary Robert Gates will unveil the Pentagon's plan to prepare for repealing the controversial "don't ask, don't tell" law regarding gay soldiers at a committee hearing Tuesday, a Pentagon spokesman said.
Washington Post: Obama faces dwindling options in his effort to close Guantanamo Bay
The closure of the military detention center at Guantanamo Bay, Cuba, is beginning to look like a protracted and uncertain project for the Obama administration as political, legal and security concerns limit the president's options.
CNNMoney: Bernanke gets a second term
Federal Reserve Chairman Ben Bernanke was confirmed for a second term Thursday by the U.S. Senate. The final confirmation vote was 70-30. Minutes earlier, more than enough senators, 77, voted to end a filibuster on the nomination in a procedural move that required 60 votes.