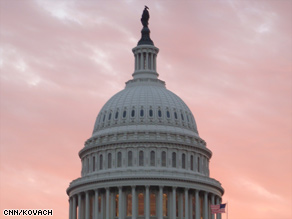 The CNN Washington Bureau's morning speed read of the top stories making news from around the country and the world.
WASHINGTON/POLITICAL
For the latest political news: www.CNNPolitics.com
CNN: After pleading his case, where does Obama go now?
President Obama acknowledged Wednesday night that he's faced political setbacks during his first year in office. Obama's first State of the Union speech was the pivot his critics believe he should have made months ago. Health care is now on the back burner, and the pain of a lingering economic recession is front and center.
CNN: Gloves come off after Obama rips Supreme Court ruling
The political furor escalated over President Obama's high-profile rebuke of a recent Supreme Court ruling on campaign advertising Thursday, as Democrats pounded the high court decision. Democrats rallied around Obama the day after the president committed a rare breach of political etiquette, criticizing the controversial ruling in his State of the Union address as members of the high court sat only a few feet away.
New York Daily News: White House asks Justice Department to look for other places to hold 9/11 terror trial
The White House ordered the Justice Department Thursday night to consider other places to try the 9/11 terror suspects after a wave of opposition to holding the trial in lower Manhattan. The dramatic turnabout came hours after Mayor Bloomberg said he would "prefer that they did it elsewhere" and then spoke to Attorney General Eric Holder.
CNN: Senate OKs sanctions on Iran
The Senate passed a bill on Thursday that would allow President Obama to expand sanctions against Iran to pressure the Islamic republic to drop its nuclear weapons ambitions.
CNN: Pentagon plan on 'don't ask, don't tell' ready for Congress
Defense Secretary Robert Gates will unveil the Pentagon's plan to prepare for repealing the controversial "don't ask, don't tell" law regarding gay soldiers at a committee hearing Tuesday, a Pentagon spokesman said.
Washington Post: Obama faces dwindling options in his effort to close Guantanamo Bay
The closure of the military detention center at Guantanamo Bay, Cuba, is beginning to look like a protracted and uncertain project for the Obama administration as political, legal and security concerns limit the president's options.
CNNMoney: Bernanke gets a second term
Federal Reserve Chairman Ben Bernanke was confirmed for a second term Thursday by the U.S. Senate. The final confirmation vote was 70-30. Minutes earlier, more than enough senators, 77, voted to end a filibuster on the nomination in a procedural move that required 60 votes.
CNNMoney: Senate hikes debt cap by $1.9 trillion
The Senate on Thursday voted to raise the cap on how much the government can borrow to a record level. Getting just enough votes to pass, the Senate voted 60-39 to increase the debt limit to $1.9 trillion. That would push the ceiling to $14.294 trillion from the current $12.394 trillion. Sixty votes were required for passage.
Investors Business Daily: Cap-Drill-Nuke Idea Faces Big Challenges
President Obama tried to revive cap-and-trade legislation Wednesday night by endorsing a Senate idea to include more nuclear power and offshore drilling. But a concrete plan is lacking, with support hard to come by, especially in an election year. The three key negotiators — Sens. John Kerry, D-Mass., Lindsey Graham, R-S.C., and Joe Lieberman, I-Conn. — have been working on the concept since at least October and have yet to even introduce a bill.
Bloomberg: Bernanke May Have Harder Fight Defending Fed After Confirmation
Ben S. Bernanke, who won Senate approval for a second term as Federal Reserve chairman over a record number of opponents, may now have a tougher fight against threats to the central bank itself. Lawmakers are considering legislation to remove a shield from congressional audits of monetary policy and strip the Fed of bank-supervision powers, measures that Bernanke opposes.
CNN: House, Senate leaders say push for health care continues
Senate Majority Leader Harry Reid said Thursday that Congress would pass a health care bill this year, while his counterpart in the House – Speaker Nancy Pelosi – outlined a two-step plan intended to maintain public focus on the issue.
Los Angeles Times: U.S. formalizes pledge on cutting greenhouse gases
In a letter to the U.N., the Obama administration submits its reduction target as part of the Copenhagen Accord aimed at combating global warming. But it hinges on Congress passing an emissions bill.
New York Times: Real Estate Interests Help Cuomo Gain a Big Edge
As Attorney General Andrew M. Cuomo readies his candidacy for governor, one industry is helping him amass a huge fund-raising advantage: real estate.New records show that even as the industry has confronted its worst crisis in decades, developers, construction executives and real estate lobbyists have given millions of dollars to Mr. Cuomo, providing one in every five dollars over the past six months.
Politico: Environmentalists target Blanche Lincoln
Environmentalists have found their first target for the 2010 election cycle: Arkansas Democrat Blanche Lincoln. Lincoln is the first senator to make the League of Conservation Voters' "Dirty Dozen" list of candidates it hopes to help defeat. The group's attack is based on Lincoln's opposition to passing a comprehensive climate bill.
St. Petersburg Times: No, no, no . . . whew, no hug
The president walks down the stairs. Here comes the hand. This is where things get tricky for Florida Republican Gov. Charlie Crist.
Dallas Morning News: Hutchison trying to balance Senate duties with campaign appearances
One day after skipping the State of the Union address to campaign in Dallas, Sen. Kay Bailey Hutchison jetted back to Washington to oppose the reappointment of Federal Reserve Chairman Ben Bernanke on Thursday. The two high-profile events – one missed and one attended – are part of a tricky political and scheduling calculus that Hutchison's gubernatorial campaign is trying to solve as the March primary approaches. She must be both senator and candidate, and balancing those two can be nearly impossible.
NY Post: Prez's power lunch
He may be taking a fighting stance against Wall Street in speeches, but President Obama is now making nice to big businesses in private. Obama tried to smooth ruffled corporate feathers at an intimate White House lunch with the heads of six major companies Tuesday, sources told The Post. The tone of the meal suggested that the president felt he'd taken his attacks too far, said one person familiar with the private meeting.
The Detroit News: Gov. Granholm backs overhaul of Michigan constitution
Gov. Jennifer Granholm has come out strongly in favor of a convention to rewrite Michigan's constitution, saying the state has changed dramatically since the document was put in place more than four decades ago.
NATIONAL
For the latest national news: www.CNN.com
Washington Post: Authorities seek deal with Detroit suspect on cooperation, guilty plea
Authorities are inching toward an agreement that would secure cooperation from the suspect in the failed Detroit airliner attack, according to two sources familiar with the case, even as fresh details emerged about the intense and chaotic response to the Christmas Day incident.
CNN: Roeder: No regrets after shooting doctor
A man on trial for gunning down a Kansas abortion provider in church said he had no regrets because "abortion is murder."
New York Times: Bursting Pride in Super Bowl Team Replenishes a City
The Saints' win on Sunday night, a victory that sends them to the Super Bowl for the first time, unleashed a raucous, trombone-blaring, grown-man-weeping, stranger-hugging frenzy. In a city that has been associated over the last four and a half years with divisiveness and suffering, the delirium over the Saints is pretty much unanimous.
San Francisco Chronicle: Legalized-pot measure almost certain for ballot
Proponents of a state initiative to legalize marijuana said Thursday they have turned in about 700,000 signatures to place the measure on the November ballot, significantly more than required.
INTERNATIONAL
For the latest international news: http://edition.cnn.com
CNN: Military official: U.S. hospital ship in Haiti near capacity
Haitians being treated on a U.S. Navy hospital ship are requiring longer care than expected, forcing the U.S. and other international agencies to scramble for an alternative.
Full Coverage: http://www.cnn.com/SPECIALS/2010/haiti.quake
CNN: Afghan conference sets deadlines for NATO handover
A plan by the Afghan government to reintegrate members of the Taliban into law-abiding society got strong support Thursday at a conference on Afghanistan. At the conclusion of the one-day meeting here, participants in the talks issued a communique expressing their approval of the plan that Afghan President Hamid Karzai introduced earlier in the day.
Der Spigel: War-Weary NATO Members Look for Morale Boost
Thursday's Afghanistan conference in London saw pledges of money for Taliban defectors and promises of more troops for Afghan President Hamid Karzai. But with the prospects for success vague at best, the psychological impact on the war-weary NATO countries was more important than any decisions made at the summit.
BBC News: Blair set to mount spirited defence at Iraq inquiry
Tony Blair is set to mount a spirited defence when he is questioned in public for the first time about his decision to take the UK to war against Iraq. He will be questioned at the Iraq war inquiry for six hours on the build-up to the 2003 invasion and its aftermath.
BUSINESS
For the latest business news: www.CNNMoney.com
CNNMoney: Obama: Here's $5,000. Go hire someone.
When President Obama called last month for a new tax break to spur job creation, critics blasted him for offering no specifics. On Friday, Obama plans to fill in the details: He wants to give businesses a $5,000 tax credit for each net new employee they hire this year.
Wall Street Journal: Stocks Hit Roughest Spell Since Early '09
The rosy view of a global recovery that powered markets in 2009 has dissipated, leading U.S. stocks to their worst month in nearly a year, pushing down commodities prices and scaring investors out of the euro to the relative safety of the U.S. dollar.
Bloomberg: 'Huge' U.K. Bank Sales May Surpass Thatcher's Privatizations
The British government is seeking to raise more cash by selling its 71.5 billion-pound ($116 billion) stake in three crippled banks than Margaret Thatcher generated by disposing of state-owned businesses during her entire 11 years in office.
Christian Science Monitor: Corporations' cyber security under widespread attack, survey finds
A survey of IT executives at corporations in 14 countries finds that more than half have seen 'high-level' attacks on their firms' computer systems. Even so, budgets for cyber security and IT have been cut in recent years, two-thirds of the respondents say.
New York Times: Ford Profit Comes as Toyota Hits a Bump
Ford, which managed to skirt the problems that forced crosstown rivals General Motors and Chrysler to seek government bailouts, reported a surprising profit on Thursday of $2.7 billion for 2009, its first in four years. …The fact that Ford is surging while Toyota — the same company whose success has caused the Detroit automakers to lay off thousands of workers — is stumbling is not lost on Bill Jackson, president of United Automobile Workers Local 588 in Chicago Heights, Ill.
Wall Street Journal: Toyota Has a Fix for Stuck Pedals
Toyota Motor Corp. has found a fix for the sticking gas pedals that prompted the company to halt sales of more than half of its models in the U.S., said people briefed on matter, although the remedy still must be approved by government regulators.
In Case You Missed It
CNN fact-checks President Obama's assertion that the stimulus created or saved two million jobs. Josh Levs reports.
Subscribe to the CNN=Politics DAILY podcast at http://www.cnn.com/politicalpodcast
And now stay posted on the latest from the campaign trail by downloading the CNN=Politics SCREENSAVER at http://www.CNN.com/situationroom