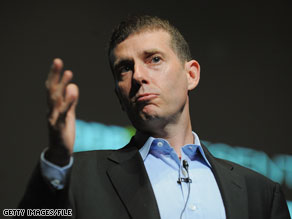 Political adviser David Plouffe will headline a fundraiser for New York Sen. Kirsten Gillibrand later this month.
(CNN) - A top political adviser to President Obama will headline a fundraiser later this month for Sen. Kirsten Gillibrand, the New York Democrat who was appointed to fill the seat vacated by Secretary of State Hillary Clinton.
Plouffe will appear at a $250 per person breakfast at a New York City law firm on Feb. 22, a Gillibrand campaign aide said. The aide added that the campaign specifically asked Plouffe to appear at the fundraiser.
Last month, White House spokesman Robert Gibbs made clear the Obama administration's support for Gillibrand.
"I think the White House is quite happy with the leadership and the representation of Senator Gillibrand in New York," Gibbs said at a press briefing. "And as many are in the DSCC, we're supporting her reelection."
The DSCC, Democratic Senatorial Campaign Committee, is the political arm for Democratic senators.
Plouffe was recently tasked by Obama to focus on the 2010 midterm elections.
Former Tennessee Rep. Harold Ford Jr., who now lives in New York, is weighing a primary challenge to Gillibrand.