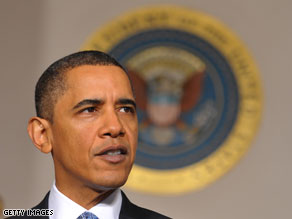 President Obama's new budget will be released on Monday.
New York (CNNMoney.com) - In his $3.8 trillion budget for next year, President Obama on Monday will lay out how Congress can lighten the country's debt load.
Specifically, he outlines a plan to reduce the nation's debt by $1.2 trillion over the next 10 years, and to get annual deficits as a percent of the economy down from 10.6% today, to 3% by 2015.
His plan consists of seven main pieces, some of which bank on some big assumptions.