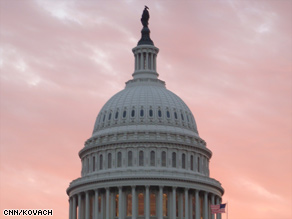 The CNN Washington Bureau's morning speed read of the top stories making news from around the country and the world.
WASHINGTON/POLITICAL
For the latest political news: www.CNNPolitics.com
CNN: Crowley moves into anchor chair
Veteran political correspondent Candy Crowley was named on Sunday the new anchor of "State of Union," CNN's political news program. Crowley moves into the anchor chair that has been occupied for the past year by John King, CNN's chief national correspondent. King is moving to weekdays to anchor a new 7 p.m. ET political program.
CNN: Ex-Edwards' aide tells of politician's affair
A new book about former Sen. John Edwards paints him as a cold, calculating and reckless politician willing to deny fathering a daughter, risking his marriage and putting the Democratic Party in potential political jeopardy - all in the name of trying to win the presidency.
CNN: White House to roll out $3.8 trillion budget plan
President Obama will take the wraps off his $3.8 trillion budget plan for fiscal 2011 at a White House ceremony Monday. The spending package comes as the administration struggles to strike a balance between fiscal restraint and job creation in an economy that has struggled to rebound from recession.
New York Times: Forces Pushing Obama to Act on Gays in Military
President Obama and top Pentagon officials met repeatedly over the past year about repealing "don't ask, don't tell," the law that bans openly gay members of the military. But it was in Oval Office strategy sessions to review court cases challenging the ban — ones that could reach the Supreme Court — that Mr. Obama faced the fact that if he did not change the policy, his administration would be forced to defend publicly the constitutionality of a law he had long opposed.
Politico: CIA ops moonlight in corporate world
In the midst of two wars and the fight against Al Qaeda, the CIA is offering operatives a chance to peddle their expertise to private companies on the side — a policy that gives financial firms and hedge funds access to the nation's top-level intelligence talent, POLITICO has learned.
CNN: Review shows dramatic shift in Pentagon's thinking
The Pentagon will no longer shape the U.S. military to fight two major conventional wars at once, but rather prepare for numerous conflicts and not all in the same style, according to a draft of a new strategic outlook the Pentagon is announcing on Monday.