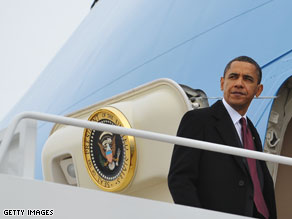 Democrats in Illinois face a fight to keep President Obama's former Senate seat.
Chicago, Illinois (CNN) - Political analysts say it might be an uphill climb for the Democrats to hold onto Barack Obama's former Senate seat in Illinois.
"Democrats right now are in disarray in Illinois," said Russ Stewart, a long-time Illinois political analyst and columnist.
Illinois voters are voting today in the first primary in this year's midterm elections.
There are competitive races in both parties in the senatorial, gubernatorial and several congressional contests. There are also contests for attorney general, secretary of state, comptroller and treasurer, but precincts reported light turnout Tuesday morning. The weather wasn't helping - a couple of inches of snow was falling on the Chicago, Illinois, area Tuesday morning.