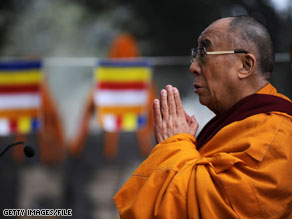 President Obama still plans to meet with the Dalai Lama.
Nashua, New Hampshire (CNN) – President Barack Obama still plans to meet with exiled Tibetan religious leader the Dalai Lama despite recent protests from Chinese officials, according to the White House.
"The president told China's leaders during his trip last year that he would meet with the Dalai Lama and he intends to do so," said Deputy Press Secretary Bill Burton aboard Air Force One.
"To be clear, the U.S. considers Tibet to be a part of China and we have human rights concerns about the treatment of Tibetans," Burton continued.
Although a date for the meeting has not been announced, Burton emphasized that the White House expects to continue maintaining a positive relationship with China despite the protests against the meeting with the Dalai Lama.
"[As] the president has expressed, we expect that our relationship with China is mature enough where we can work out issues of mutual concerns such as climate, the global economy, and nonproliferation, and discuss frankly and candidly those issues where we disagree," Burton said.
"The president is committed to building a positive, comprehensive and cooperative relationship with China."
President Obama is traveling to Nashua, New Hampshire Tuesday as part of his push to promote small business and jobs.