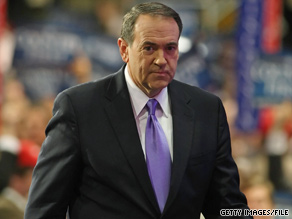 Former Arkansas Gov. Mike Huckabee heads to a key primary state later this month.
Washington (CNN) - Mike Huckabee, the onetime presidential candidate turned conservative talk show host, will make a political stop in the early primary state of South Carolina later this month.
Huckabee will campaign in Greenville on Feb. 18 for House candidate Rex Rice, who is running to fill the 3rd congressional district seat left open by Rep. Gresham Barrett, a Republican candidate for governor. Rice backed Huckabee's 2008 presidential bid.
Though the campaign stop is in Greenville, the city is actually situated in the 4th congressional district, represented by Rep. Bob Inglis. A Rice spokesman said the location was chosen to accommodate Huckabee, who is flying into Greenville for only a couple of hours.
It's unclear if Huckabee's trip signals an interest in a second run at the White House: his star was tarnished last December by the revelation that as Arkansas governor, he granted clemency to Maurice Clemmons, the man who murdered four police officers in Washington. And Huckabee's political action committee only had $192,000 in the bank at the end of 2009.
He has also spent the last year returning favors for candidates like Rice who endorsed him in 2008. Huckabee has also stumped for Senate hopeful Marco Rubio in Florida, as well as gubernatorial candidates Bob Vander Plaats in Iowa and Andre Bauer in South Carolina
Other potential 2012 candidates who have visited South Carolina in recent months include Mitt Romney, Mike Pence and Rick Santorum.