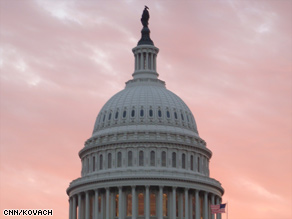 The CNN Washington Bureau's morning speed read of the top stories making news from around the country and the world.
WASHINGTON/POLITICAL
For the latest political news: www.CNNPolitics.com
CNN: Obama's budget draws battle lines for weeks ahead
President Obama's budget plan released Monday lays out legislative priorities destined to become political battles as he navigates his second year in office.
CNNMoney: Stimulus: Secret sequel in the budget
They're not calling it Stimulus 2, but the Obama administration wants to extend the life of several Recovery Act provisions by building them into the federal budget. The president's $3.8 trillion budget for fiscal 2011, unveiled Monday, calls for giving states more money for Medicaid and infrastructure projects, as well as renewing tax breaks for workers, small businesses and municipalities issuing bonds. It also requests additional funding for Obama's educational reform initiative, Race to the Top.
Miami Herald: Florida feels heat of NASA cutback
President Barack Obama wants to make dramatic changes in how NASA functions, jettisoning plans to return to the moon, letting private companies handle human transport into lower orbit and focusing the nation's space agency on new rocket technology. But Obama's failure to extend the space shuttle program, which is expected to end by early 2011, and his decision to cancel the moon program launched by George W. Bush in 2004, means the imminent loss of at least 7,000 jobs in Florida and a sense of betrayal along the Space Coast.
Wall Street Journal: Banks Gear Up for a Battle
The showdown over the future of proprietary trading by U.S. banks is about to begin. One likely fight: defining exactly what proprietary trading is.
CNN: Gates seeks to change 'out of date' vision of military challenges
Preparing the U.S. military to fight two major conventional wars is "out of date" and does not reflect the numerous challenges U.S. military forces could face in the future, U.S. Defense Secretary Robert Gates said Monday.
Wall Street Journal: U.S. Steps Up Missions Targeting Taliban Leaders
The U.S. military is deploying tens of thousands of fresh troops in a much-publicized strategy to woo the Afghan people through good government, economic growth and security. Yet behind the battle lines, the U.S. is quietly escalating a more forcible campaign. In recent months, small teams of Army commandos, Navy Seals and Central Intelligence Agency operatives have intensified the pace of what the military often calls "kill-capture missions"—hunting down just one or two insurgents at a time who are deemed too recalcitrant to be won over by any goodwill campaign.
Politico: Democrats squabble over jobs bill
Democrats from the president on down say jobs are their No. 1 priority, and Senate Majority Leader Harry Reid expects to announce details of a bill this week. But a squabble among Senate Democrats is complicating early efforts to bring a bill to the floor.
Washington Post: Virginia Senate bills say no to requiring health insurance
Virginia's Democratic-controlled state Senate passed measures Monday that would make it illegal to require individuals to purchase health insurance, a direct challenge to the party's efforts in Washington to reform health care.
USA Today: Republicans try to take Illinois' U.S. Senate seat
Two weeks after losing Edward Kennedy's Senate seat in Massachusetts, the Democrats face tough elections Tuesday in Illinois— this time from within the party's own ranks.
Rasmussen Reports: Florida GOP Senate: Rubio 49%, Crist 37%
Former state House Speaker Marco Rubio has now jumped to a 12-point lead over Governor Charlie Crist in Florida's Republican Primary race for the U.S. Senate.
Houston Chronicle: Houston a key player in race for governor
Whether the next governor is a Democrat or a Republican, the greater Houston area will play a major role in deciding that outcome. On the Republican side, U.S. Sen. Kay Bailey Hutchison and Gov. Rick Perry already are slugging it out in the region with public appearances, TV commercials and high profile endorsements. Debra Medina is tapping into supporters of U.S. Rep. Ron Paul, R-Clute, for her challenge to the system.
Los Angeles Times: Fiorina, targeting Boxer, is still cultivating her base
As Senate candidate Carly Fiorina spoke to a standing-room-only meeting of local Republicans here, she hit familiar points - her rise to become leader of Hewlett-Packard, her "common sense" approach to fixing the nation's economy and her pledge to give incumbent Barbara Boxer the fight of her life.
New York Daily News: Rep. Charlie Rangel spent $574K on lawyers last quarter – most of his campaign spending
Rep. Charles Rangel's ongoing ethics probe is taking a serious toll – on his campaign war chest. In the last three months of 2009 alone, Rangel shelled out $574,348 on lawyers, according to his latest federal election filings. That's 84% of his total campaign spending during the same period.
San Francisco Chronicle: Prop. 8 trial on YouTube after all – re-enacted
The U.S. Supreme Court's camera blackout of the trial over same-sex marriage in California didn't faze two Los Angeles filmmakers, who – with the help of transcripts, bloggers and a corps of professional actors – have launched its re-enactment on YouTube.
NATIONAL
For the latest national news: www.CNN.com
USA Today: Aid operations help Haiti's commerce make comeback
Laurent is among a small group of Haitians who have found a way to earn a living from the massive international aid operation underway in their country. Translators, drivers, hoteliers, restaurateurs are benefiting from a financial windfall that followed the Jan. 12 earthquake in their impoverished country.
New Orleans Times-Picayune: U.S. Attorney Jim Letten recuses himself from Landrieu phone tampering case
U.S. Attorney Jim Letten last week decided to remove himself from the prosecution of four young men arrested for trying to tamper with the phones in U.S. Sen. Mary Landrieu's New Orleans office.
CNN: Last U.S. veteran of World War I turns 109
The last surviving U.S. veteran of World War I, former Cpl. Frank Buckles, turned 109 on Monday and is still hoping for a national memorial to his comrades in Washington.
USA Today: Study: 1 in 8 get help at food banks
One in eight Americans — 37 million — received emergency food help last year, up 46% from 2005, the nation's largest hunger-relief group reports today.
Washington Post: Abstinence-only programs might work, study says
Sex education classes that focus on encouraging children to remain abstinent can persuade a significant proportion to delay sexual activity, researchers reported Monday in a landmark study that could have major implications for U.S. efforts to protect young people against unwanted pregnancies and sexually transmitted diseases.
INTERNATIONAL
For the latest international news: http://edition.cnn.com
CNN: Canada assembles 15,000 to make Olympics secure
An Olympic security plan five years in the making is taking shape in Vancouver this week. The Royal Canadian Mounted Police is heading up the $900 million security operation, the largest in Canada's history. It will involve 15,000 police, private security and military personnel. Bud Mercer, RCMP assistant commissioner, describes it as "planning for 17 Super Bowls in a row, day after day."
New York Times: Haiti Crisis Prompts Fresh Talk of Pooling U.S. Relief Money
As the total giving for Haiti exceeds $560 million, relief workers and charitable groups are revisiting a fund-raising model — last seriously discussed after the 2004 Asian tsunami — to pool disaster donations across the United States and distribute them to organizations best placed to deliver relief. The push to consider a new approach is being driven in part by relief groups that feel eclipsed by the Red Cross and frustrated at being frozen out financially right when their expertise could be best put to use.
BBC News: China warns Obama not to meet Dalai Lama
China has warned the US president that it will harm ties between the two countries if he meets the Dalai Lama.
The Guardian: Leaked climate change emails scientist 'hid' data flaws
Phil Jones, the beleaguered British climate scientist at the centre of the leaked emails controversy, is facing fresh claims that he sought to hide problems in key temperature data on which some of his work was based.
New York Times: Paternity Claim Challenges Zuma's Stance on AIDS
Jacob Zuma, the polygamous president of South Africa, was upbraided Monday by commentators and political rivals after a newspaper reported that he had fathered his 20th child, the mother being a much-younger family friend and not one of his three wives.Two months ago, on World AIDS Day, Mr. Zuma, 67, exhorted his countrymen to use condoms during sex.
Wall Street Journal: Israel Reprimands Officers Over Gaza Strike
Israel told the United Nations it formally reprimanded a brigadier general and a colonel for ordering artillery barrages near populated areas in Gaza in January 2009, the first admission of wrongdoing by senior military officers in the 23-day war.
Washington Post: Southern Sudan says vote on independence is off-limits for United Nations
A surprise intervention in Sudan by U.N. Secretary General Ban Ki-moon has drawn warnings from senior officials here, who say any outside efforts to influence a referendum on independence next year could lead to further conflict.
Times of London: Britain's human rights policies violate natural law, Pope says
The Vatican condemned Britain's proposed equality law yesterday, complaining that legislation to give homosexual equal rights "violates natural law".
BUSINESS
For the latest business news: www.CNNMoney.com
CNNMoney: Stocks bounce after battering
Stocks surged Monday, starting off a new month with strong gains, as investors welcomed better-than-expected reports on personal income, manufacturing and Exxon Mobil's profit.
CNNMoney: Toyota's loss: Ford's and Hyundai's gain
Many believe that despite the gas pedal fix, Toyota (TM) may lose market share in the U.S. this year for the first time in 16 years. Simply put, Toyota can no longer claim to be the highest quality automaker.
Bloomberg: Recovery Accelerates as Company Spending Rises
The need to rebuild industrial capacity after the largest decline on record in 2009 is boosting capital spending and may spur hiring. Beneficiaries are led by technology equipment- makers Intel Corp., Applied Materials Inc. and EMC Corp., as well as industrial product providers General Electric Co. and Rockwell Automation Inc.
Investors Business Daily: Manufacturing Index Hits 5-Year High
Manufacturing expanded in January at the fastest pace in more than five years, according to a key report Monday, boosting hopes the recovery is on a sustainable path.
In Case You Missed It
CNN's Karl Penhaul reports on Haitians who say they gave their children to American missionaries to get them a better life.
CNN's Barbara Starr reports on a defense missile test failure.

Subscribe to the CNN=Politics DAILY podcast at http://www.cnn.com/politicalpodcast
And now stay posted on the latest from the campaign trail by downloading the CNN=Politics SCREENSAVER at http://www.CNN.com/situationroom