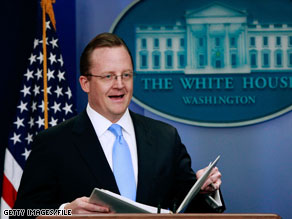 Robert Gibbs faced questions from reporters Thursday.
Washington (CNN) - White House press secretary Robert Gibbs Thursday defended the number of formal press conferences, or lack thereof, held by President Obama in recent months.
CNN White House correspondent Dan Lothian asked Gibbs why Obama has been unavailable for questioning by the White House press corps over the past six months.
"He has taken questions at different press avails from a whole host of reporters," said Gibbs. "We've done a countless number of interviews, more interviews in the first year than any other president in recent memory. He enjoys the format, we just haven't done one in a while."
The president last held a prime time news conference on July 22, 2009.