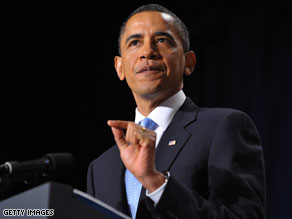 President Obama's aunt will face a federal immigration judge Thursday.
Boston, Massachusetts (CNN) - A federal immigration judge will decide Thursday whether President Barack Obama's aunt, who has been in the United States illegally for years, will be allowed to stay.
Zeituni Onyango, 57, is the half-sister of the president's late father.
She arrived at the court here in a wheelchair and testified before Judge Leonard Shapiro for two and a half hours about her asylum request, her representative Amy Cohn told CNN.
Two doctors, including her personal physician, are also testifying on her behalf. Onyango's medical condition is part of her legal defense against expulsion.
She applied for political asylum in 2002, citing violence in her native Kenya.
Onyango was a legal resident of the United States at the time and had received a Social Security card a year earlier.
But her asylum request was turned down in 2004. She appealed and was ordered to leave, but has lived in the United States illegally since then.
Her immigration status came to light in the final days of the 2008 Presidential race.
Obama has not weighed in on the case, with the White House saying "the president believes that the case should run its ordinary course."

–CNN's Julian Cummings in Boston contributed to this report.